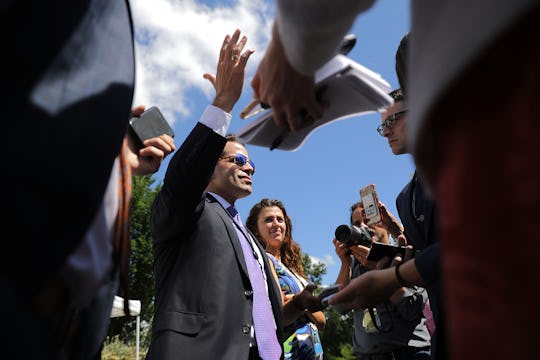 Chip Somodevilla/Getty Images News/Getty Images
Yes, Anthony Scaramucci Just Quoted Joe Paterno On "Honor" & "Dignity"
On Thursday morning, the White House's new communications director phoned into CNN to discuss the media leaks coming out of the Trump administration. And, in the course of that interview, Anthony Scaramucci quoted Joe Paterno on "honor" and "dignity." Let's just say Twitter was not having it.
According to The Wrap, Scaramucci called into CNN's New Day to talk about the so-called "leaking" of his public financial documents. In a now-deleted tweet, the White House communications director seemed to implicate Chief of Staff Reince Priebus as the culprit, calling the "leak" a felony (again, The Mooch's financial disclosure is public info). But in his Thursday interview with New Day host Chris Cuomo, Scaramucci backtracked on the accusation, claiming the press made an "assumption" because "journalists know who the leakers are," Death and Taxes reported. He added that "if Reince wants to explain that he's not a leaker, let him do that."
And that's where Paterno comes in. In what was, quite frankly, a head-scratching comparison, Scaramucci said he and Priebus are like Cain and Abel. Then, to illustrate why loyalty is necessary, the communications lead quoted the infamous Penn State football coach, who died in 2012. The internet did not let The Mooch off the hook.
According to Mic, Scaramucci said to Cuomo,
Remember Joe Paterno? What would he say? 'Act like you've been there before.' Act with honor and dignity and respect and hold the confidence of the presidency in his office.
Scaramucci's comment on the late coach leaves a lot to unpack. According to USA Today, court documents unsealed last year revealed that Paterno knew about sexual assault reports made against Penn State assistant coach Jerry Sandusky as early as 1976, but failed to pursue them. That was more than three decades before Sandusky would be arrested on multiple charges of child sexual abuse. The assistant coach was convicted on 45 counts in 2012 and sentenced that year to 30 to 60 years in prison.
According to USA Today, Paterno, who passed away from lung cancer five years ago, allegedly said in 1976 that he didn't "want to hear about" sexual assault reports made against Sandusky because he had "a football season to worry about."
As Mic pointed out, Scaramucci's reference to Paterno is in line with what his boss has said in the past. President Donald Trump had made positive comments about the late coach during a campaign stop in Pennsylvania last year. Trump also defended Paterno's actions in a 2012 tweet.
Paterno may have represented many things, but I doubt Sandusky's victims would say "honor" and "dignity" would be among them. For Scaramucci to quote the disgraced coach is a slap in the face to those victims and their families who had to live with his silence. Twitter let him know that in no uncertain terms.