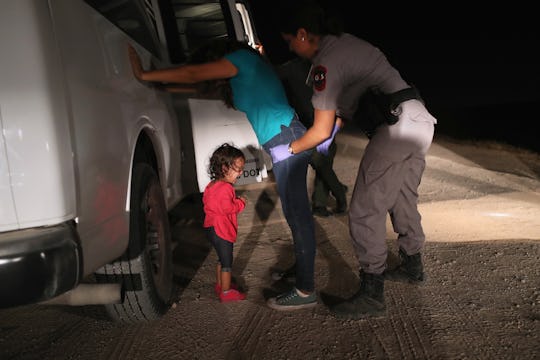 John Moore/Getty Images News/Getty Images
You Can Buy Blankets & Diapers For Immigrant Children At The Border — Here's How
By now, you're probably aware of the heartbreaking situation at the Southern U.S. border, where thousands of infants and children seeking refuge have been taken from their families and placed in detention facilities. If you're able to help, you can buy blankets and diapers for immigrant children detained at the border, as well as other hygiene essentials, through a partnership between nonprofits Baby2Baby and Kids in Need of Defense. And you don't even need to get off of the couch or speak to a human being, because let's face it, if we've learned anything in these last few weeks, it's that human beings are terrible.
Baby2Baby provides low-income children with diapers, clothing and other basic necessities. Based in Los Angeles, it now partners with other organizations through its national network. Kids in Need of Defense, or KIND, provides pro bono legal representation to unaccompanied immigrant and refugee children. If you're able to chip in, just go to Baby2Baby's Amazon registry, which lists Pull-Ups, toothbrushes, soap, t-shirts, and other fundamental items that will provide these kids with just a modicum of comfort. Thankfully, thousands of items have already been purchased, which should warm your heart a bit, but there's still more that they need.
Between April 19 and the end of May, 1,995 children were separated from their parents at the border, according to CNN. It's also been reported that 2,342 kids were separated from May 5 to June 9, but the Trump administration has declined to provide a total number of how many kids are still in government custody. On Wednesday, Trump signed an executive order reversing his policy of separating families; families will now be detained together. However, the order does not address families that have already been separated, and it's a difficult process for parents to reunite with their kids if and when they're released, according to CNN.
A 2015 court order currently prohibits the government from keeping migrant children in detention for more than 20 days, but according to NPR, Trump has directed Attorney General Jeff Sessions to have that order modified so that kids could be detained with their parents indefinitely. Under the old system, kids were housed in a Customs and Border Protection facility (those cages you've seen on TV) for no more than three days, then transferred to long-term facilities operated by the Office of Refugee Resettlement, a division of the Department of Health and Human Services. After that, the government seeks to place kids with family members, foster parents, or sponsors, but there's no time limit on how long it takes to find a permanent home, and some kids are stuck in an ORR facility for months.
Parents who are currently detained aren't able to sponsor their kids, and it's unclear whether the administration intends to reunite the families it's already separated. A fact sheet on the Customs and Border Protection website states that a "family reunification and removal center" is planned, but offers no further details. It also states that "HHS and ICE can take steps to facilitate family reunification for purposes of removal" (emphasis mine), but not that it actually will. And again, that's for those families it intends to deport, not those who are eventually allowed to stay.
According to CNN, "the existing sponsorship process does not include any procedures for proactively reuniting children with parents," meaning it's the parents' job to locate their children, a confusing and possibly frightening task to navigate for a non-native who's just had, shall we say, a poor first impression of the U.S. government. The U.S. Immigration and Customs Enforcement's Online Detainee Locator System doesn't contain the records of minor detainees, and the only advice for parents looking for their kids is to call the Office of Refugee Resettlement National Call Center hotline. The ORR's website offers only this vague promise: "We will ensure your message gets to the shelter caring for your child." Until these kids can get home to their parents (wherever that home might be), at least we can do our best to keep them clean and warm.