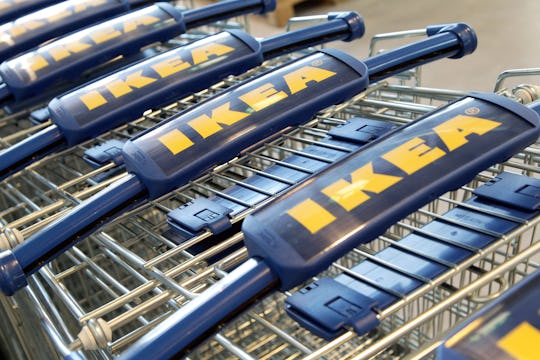 Andreas Rentz/Getty Images News/Getty Images
IKEA Will Give You A Discount For Peeing On This Ad — But Only If You're Pregnant
Everyone loves a good IKEA deal, whether it be a cheap end table or delicious and affordable meatballs. IKEA is a fan favorite, and for (many) good reasons. And, now, the popular home furnishing store is offering a new deal that's sure to get their loyal shoppers' attention yet again. Shoppers now have the opportunity to get a discount at IKEA by peeing on an ad, according to Adweek, but there's one little catch: You have to be pregnant... and located in Sweden, for the time being.
Yes, you read that correctly. Apparently, as Adweek reported, the company has released a new advertisement "in the Swedish women's Amelia." And it's not your typical ad. Oh no, as the headline states, IKEA wants its customers to know that they can receive a special, just-for-them discount from the store on a new crib if they pee on their ad in the Swedish magazine. According to Curbed, the text on the advertisement reads:
Peeing on this ad may change your life. This ad is also a pregnancy test. Pee on the marked area and wait a moment. If you are expecting, you will get a surprise right here in the ad.
Obviously, it's pretty unconventional marketing on the part of IKEA, but it might just be pretty genius, too. After all, not many magazine advertisements have gotten as much attention as this one, and not many ads ask potential customers to go to the bathroom on them either.
So, whether a woman who already knows that she's expecting pees on the ad, or an unsuspecting woman decides to have some fun and take a tinkle, the ad is sure to be a hit. But of course, considering all of the possible, er, misses that come with an ad requesting you to urinate on it, the responses to the marketing plow on Twitter were definitely on point. Clearly, the ad is making a splash, pun very much intended.
According to The Cut, Swedish ad agency Åkestam Holst is the mastermind behind the ad, which has just about everyone talking. And according to Adweek, Holst explained their creative decision in the following statement:
In order to make the interactive functions of this ad work in reality, we had to make several technical advancements. The pregnancy test strip was used as a starting point, which relies on antibodies that bind to the pregnancy hormone hCG, resulting in a color change. For scaling up of this technique and adopting it to the physical format of a printed ad, Mercene Labs has used their experience in development of surface active materials for microfluidics and medical diagnostics. Careful selection of materials, together with a controlled capillary flow have been crucial for the success of this project. Technical advancements made during the work with this campaign have the potential to improve medical diagnostics.
And while the ad is certainly a fun way to get a cheap crib, it could also prove to be even more controversial if it ends up being the way couples find out that they're expecting. After all, seeing a page in a magazine telling you to pee on it might just be all too tempting for many women out there.
But, one of the ad's biggest perks isn't its humor or originality; IKEA is really bringing out the big guns with this one by giving women a free pregnancy test, whether or not they want to buy the crib. According to Architectural Digest, "the crib in question, the Sundvik, is currently available for $119.00 online, pre-discount." And while the actual discount is unclear, it's likely to be fairly significant to have women go through all that trouble.
For now, the ad is only running in Sweden, but here's hoping it makes its way State-side, because it sounds seriously amazing and entertaining.
Check out Romper's new video series, Romper's Doula Diaries:
Watch full episodes of Romper's Doula Diaries on Facebook Watch.