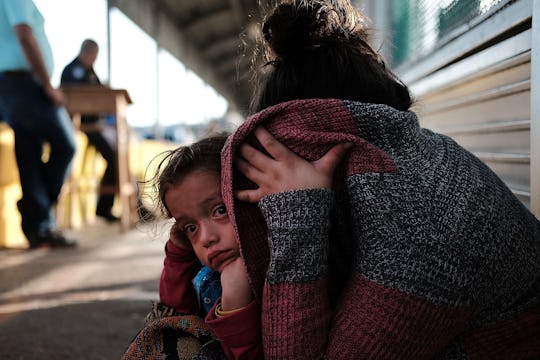 Spencer Platt/Getty Images News/Getty Images
How Do People Who Support "Family Values" Feel About Family Separation? It's Complicated
Ruth Jackson Lee is a family values advocate. The mother of four is also pro-life and pro-religious liberty. She and her husband graduated from Liberty University, an evangelical university that has been in the news lately as a result of university president Jerry Falwell Jr.'s vehement support of President Trump, as Vox has reported. Jackson Lee is a family values advocate and also completely opposed to detention centers for immigrant children.
"These 'family values' relate to far more than just biological family," the Florida-based consumer law attorney tells me in an email interview. "It extends to every child, woman and man as image bearers of God. Indeed, Jesus calls those who follow him — Christians — to take care of society's most vulnerable. He calls us to welcome strangers and love our neighbors. He calls us to take care of widows and orphans. The family separation policy could not be more diametrically opposed to these values."
The question roiling this country, as details about the abuse of children detained by the Department of Homeland Security trickle out, is: how did people otherwise concerned with the welfare of families and children help pave the way for these abuses by voting for a man who ran on an extremely anti-immigration stance? And how have they reacted to the man they voted for presiding over such a brutal policy?
I uttered an out-loud "amen" when reading Jackson Lee's email, mostly because it acknowledged the dissonance that exists between the values of Trump voters and the policies their votes ushered in.
Fifty-eight percent of white voters supported Trump in the 2016 presidential election; 81 percent of conservatives, 58 percent of Christians and 52 percent of Catholics. Trump's success in the electoral college was anchored to his stance on immigration: immigration a the top issue for all voters (64 percent of voters concerned with that issue went for Trump), but of those who believed undocumented immigrants should be deported, 84 percent broke for Trump; if you supported building a wall, you were overwhelmingly likely to vote for Trump, at 86 percent of that population (all data collected by Edison Reporting and published by the New York Times).
That's not to say the majority of people aren't opposed to the Trump Administration's family separation policy. According to a Quinnipiac University poll, released last month, 66 percent of American voters oppose separating children from parents when families illegally cross the border into America; only 27 percent support it.
The pushback on the policy was strong enough that the Trump administration agreed on June 27 to a court-ordered deadline that required them to reunite separated families within 30 days. But there are still 570 children who remain separated from their parents and the administration is now claiming the American Civil Liberties Union (ACLU) should do the work of completing the job, according to Mother Jones.
Under pressure from their base, we've seen walk-backs from even Trump's inner circle. "I am a daughter of an immigrant, my mother grew up in Communist Czech Republic, but we are a country of laws," Ivanka Trump said to Axios in an interview last week, after letting the world know that she was "vehemently" against family separation. But even in walking back her endorsement of the policy, she sought to qualify it. "We have to be very careful about incentivizing behavior that puts children at risk of being trafficked, at risk of entering this country with coyotes or making an incredibly dangerous journey alone."
This compartmentalization of her own beliefs — as a mother, no less — was never starker than following the alleged death of a toddler following her detainment at the Dilley Family Detention Center in south Texas, per a series of messages posted on Twitter on July 31 by Houston-based immigration lawyer Mana Yegani, and later reported on by the Washington Post. ICE denied any child deaths "in custody" on Twitter.
Yegani wrote on Twitter that the child died following her stay at an ICE detention center and as a result of "possible negligent care and a respiratory illness she contracted from one of the other children."
This isn't a one-off.
In June, a migrant mother said her baby was taken from her arms while breastfeeding, per the Dallas News. She was handcuffed for resisting.
Earlier this month, BuzzFeed released a horrifying report about treatment of pregnant women in detention centers. One woman shared her story of miscarrying when she was four months pregnant and being held in a detention center.
"I realized I was losing my son," she told BuzzFeed. It was his life that I was bleeding out. I was staining everything. I spent about eight days just lying down. I couldn't eat, I couldn't do anything. I started crying and crying and crying." She told the reporter she came to the United States to seek refuge for her unborn son.
Antonia Hylton, a correspondent for VICE News Tonight on HBO, affirms that these situations are not one-offs. For nearly a year, Hylton has been reporting on the Office of Refugee Resettlement and our immigrant shelter system — she has covered family separation since the spring. Hylton tells me the conversation that stays with her most is her interview with 7 year-old Osmin David Garcia Diaz from Guatemala. Osmin David was separated from his father for 51 days and physically abused by other children in a government-funded shelter in Arizona.
"When I met him and interviewed him the morning after he and his father were reunited, he showed what, to my admittedly untrained eye, seemed to be signs of psychological trauma," she tells me via email. "He went to sleep at one point during a particularly tough part of a conversation I had with his father. When I would ask Osmin simple questions about his shelter experience (what he ate, who he played with, how he was spoken to) his eyes would get glassy and he would become, at times, catatonic."
Hylton says what keeps her up at night is that this family could be considered one of the "lucky" ones she interviewed in her "Zero Tolerance" report because they were reunited. But it wasn't until after 51 days of separation, in which Osmin endured bullying and abuse in a government-funded shelter without consistent access to phone calls to family members. "And still, this family feels grateful and feels blessed because they were a part of the group that was successfully reunited by the court-ordered deadline," Hylton says.
"This crisis begs short-term and long-term questions," Hylton says. "The short term question is: what exactly will be done for the remaining children and parents who have yet to be reunited? The long term questions are: what remedy will the families and young children traumatized by this experience receive? What supports will communities or agencies provide them? What restitution are they owed?"
The crisis and the damage caused to children, some of whom the New York Times reports are traumatized following their detention, are of the Trump Administration's own creation. The fallout will take years to address. So where do those ostensibly in support of the president stand on the issue now?
This question led me to Jackson Lee, who was one of the few people or organizations I was able to reach for comment on how immigrant families fall into their "family values" stance.
Then there was Eric J. Scheidler, executive director of the Pro-Life Action League, who responded to my email quickly and with an openly critical statement in regards to child detainment:
"Our nation has serious immigration problems that need to be solved. But separating children from their parents at the border is no better a solution to real human problems than separating unborn children from their mothers through abortion is. The pro-life position is to do everything we can to keep families intact — including immigrant families and families with unborn children."
A spokesperson from Samaritan's Purse, an evangelical international relief organization, responded with: "As an international relief organization, Samaritan's Purse does not take positions on matters of U.S. policy or politics."
But Franklin Graham, the head of the organization, does, calling the policy "disgraceful." (He was, however, careful to call out lawmakers and not Trump.)
The Family Research Council, Susan B. Anthony List, and March for Life did not respond to my requests for comment. Other reports who did receive responses from a few of those organizations, however, noted that they maintained immigrant parents were to blame because they "knowingly" put their children in this position or they refused a specific comment because immigration was not their focus.
One encouraging way to consider these disavowals is as proof that the left and right share some common ground — a "we agree on humanist approaches to immigration, but differ on economic policy"-type thing. This is what The Root's Damon Young terms the "subgenre of discourse that rose to prominence after the election — where liberal whites either twisted themselves into logical origami trying to explain the feelings of Trump voters without using the words 'race' or 'racism'or where they took deep and empathetic dives into the hearts of said racists."
Another way to view them is as positively meaningless where that person's vote contributed to this unnecessary crisis.
Opposition to brutal immigration policies has grown among the right. Lila Rose, the president of the anti-abortion group Live Action, tweeted in June, "I agree that we need to secure our borders & our system needs reform. Let's do that. But children should never be used as tools for deterrence, or pawns in a political game. If parents aren't abusing, separation of families at the border is not necessary."
Ellen Clark Clémot, a pastor at the New Jersey-based Presbytery of the Presbyterian Church wrote about the ICE arrest of one of his congregation members that it was a wake-up call. "We changed from being a congregation of peaceful bystanders to becoming a community of active protesters. Myself included. All of a sudden, we woke."
"There are no single-issue saints," said Archbishop José H. Gomez of Los Angeles in a June speech at Georgetown University.
Their votes may have empowered a government bent on nationalist and protectionist principles, but they have demonstrated that it is not too late to resist.
"[This policy] should not just be disheartening to Christians, but should be absolutely repulsive," says Jackson Lee. "It should cause Christians to advocate on behalf of society's most oppressed — demanding that they be treated with mercy and love — not separated from their families."
It's family values, spelled out in a way that everyone can understand.