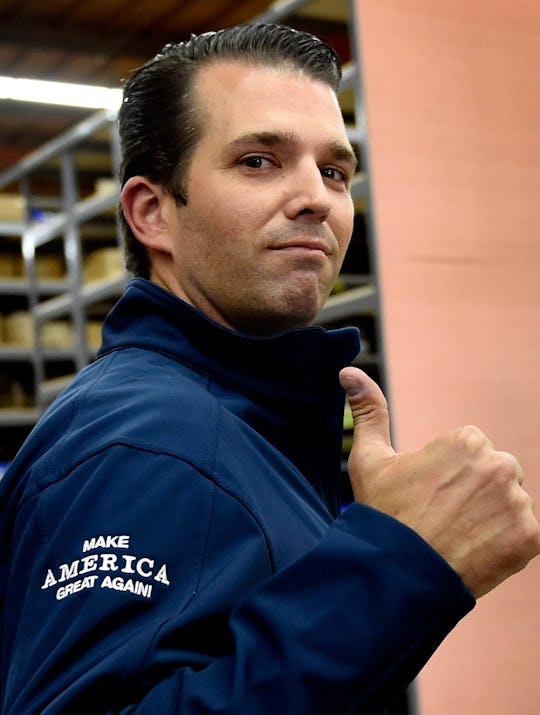 David Becker/Getty Images News/Getty Images
You Might Have Missed This Little Detail About Donald Jr.'s Emails
On Monday The New York Times reported that President Donald Trump's son, Donald Trump, Jr., met with a Russian lawyer connected with the Kremlin during his father's presidential campaign, knowing the meeting would involve alleged damaging information about Hillary Clinton. The report was scathing, to be sure, and has since grown in both drama and scandal, especially when, on Tuesday, Donald Trump, Jr. released an email chain regarding the June 2016 meeting. The details, information, and allegations are somewhat confusing, so you might have missed this little detail about Donald Jr.'s emails. A detail that will no doubt have long-lasting ramifications.
In the emails Donald Trump, Jr. felt inclined to release himself, an email from publicist Rob Goldstone offered the 45th president's oldest son a meeting with a "Russian government attorney" after offering "some official documents and information that would incriminate Hillary and her dealings with Russia," as pointed out by CNN. A statement from Trump, Jr. accompanied his emails, reading:
To everyone, in order to be totally transparent, I am releasing the entire email chain of my emails with Rob Goldstone about the meetings on June 9, 2016. The first email on June 3, 2016 was from Rob, who was relating a request from Emin, a person I knew form the 2013 Ms. Universe Pageant in Moscow. Emin and his father have a very highly respected company in Moscow. The information they suggested they had about Hilary Clinton I thought was Political Opposition Research. I first wanted to just have a phone call but when that didn't work out, they said the woman would be in New York and asked if I would meet. I decided to take the meeting. The woman, as she has said publicly, is not a government official. And, as we have said, she has no information to provide and wanted to talk about adoption policy and the Magnitsky Act. To put this in context, this occurred before the current Russian fever was in vogue. As Rob Goldstone said just today in the press, the entire meeting was 'the most inane nonsense I ever heard. And I was actually agitated by it.'
Allegations and potential explanations aside, there's one detail Donald Trump, Jr. inadvertently revealed when he released the now infamous email chain: Paul Manafort and Jared Kushner were looped in on the meeting. That means both Manafort and Kushner knew the meeting was taking place, that Trump, Jr. was involved, and that so-called incriminating documentation regarding Clinton would be discussed.
At the top of the second document in Trump, Jr.'s tweet, you can see that it says on the top of the chain "To: Jared Kushner, Paul Manafort." The text of the email itself reads, "Meeting got moved to 4 tomorrow at my office. Best, Don."
Representatives of both Trump, Jr. and Kushner have confirmed the June 2016 meeting to the Associated Press in the aftermath of the New York Times report. "Kushner lawyer Jamie Gorelick said her client already disclosed the meeting in a revised filing of a form that requires him to list meetings with foreign agents," reported the Los Angeles Times, and unlike Trump, Jr. — who is not formally serving in his father's administration and therefore is not required to disclose his foreign contacts — Kushner has "submitted additional updates."
According to the Los Angeles Times, "Manafort has denied any coordination with Russia and has said his work in Ukraine was not related to the campaign." For those who may have forgotten in the midst of this ongoing scandal, Manafort was in charge of President Trump's campaign for five months and until he resigned immediately after the Associated Press reported on his firm's "covert Washington lobbying operation on behalf of Ukraine's ruling political party."
While details are still emerging and additional inquiries are sure to be made regarding Russia and the Trump presidential campaign, one thing is for certain: this scandal isn't going away anytime soon.