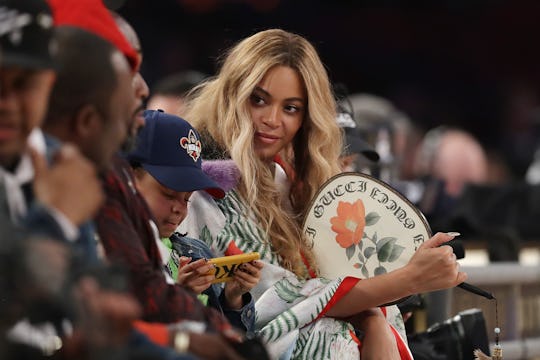 Ronald Martinez/Getty Images Sport/Getty Images
The Genius Detail In Beyoncé's Baby Name Reveal That You May Have Missed
It's about damn time. On Friday, TMZ broke the news regarding the names of Beyoncé twins — information people have been waiting on since their brith was announced almost three weeks earlier. In all the excitement about hearing the reported names, however, many people looked over the genius detail about Beyoncé's baby name reveal that prove she's a true boss.
Although many people were expecting Beyoncé to release the names herself (possibly in another record-breaking Instagram post), TMZ was the first to share that Beyoncé named her twins Sir and Rumi. But how did the outlet find out about the names that many people have been guessing for weeks? It wasn't through a family member or anonymous "source close to the singer." No — it was because Beyoncé and JAY-Z did the most baller thing they could do: they trademarked the names.
Yes, you read that right. As further reported by TMZ, the company that owns all of the Knowles and Carter trademarks "filed legal docs to secure the rights to the names, Rumi Carter and Sir Carter." The documents were reportedly filed on June 26 — nine days after news of the twins' birth broke — proving just how baller Beyoncé and JAY-Z are. Not that people actually needed proof, right?
Of course, the twins aren't the only ones with a possible TM at the end of their name. (Is that how it works? Do they have the trademark emblem on their birth certificate? I wouldn't know because my parents weren't considerate enough to do the same for me.) In February 2012, about a month after the birth of their firstborn arrived, The Washington Post reported that the couple filed an application to trademark Blue Ivy's name. They hit a snafu, however, when event and wedding planner Veronica Alexandra filed to trademark Blue Ivy, the name of her company. The couple was eventually denied the right to trademark Blue Ivy in October of that year, according to CNN. That roadblock, however, hasn't stopped them from trying again. According to TMZ, Beyoncé and JAY-Z filed another petition to trademark Blue Ivy Carter earlier this year. The irony is that, according to TMZ, JAY-Z and Beyoncé have no intention of selling any products under their children's names. They simply want to stop others from doing it.
Aside from reminding the world that Beyoncé and JAY-Z welcomed twins, these trademark documents serve as a reminder that Beyoncé and JAY Z are true ballers and you should never forget that. I mean, who else would trademark their children's names just to beat others to the punch? Who else even has the power to do that? No one — just Hollywood's most powerful couple. So, in case you forgot, let this be a reminder that we should all bow down to the Knowles-Carter family.