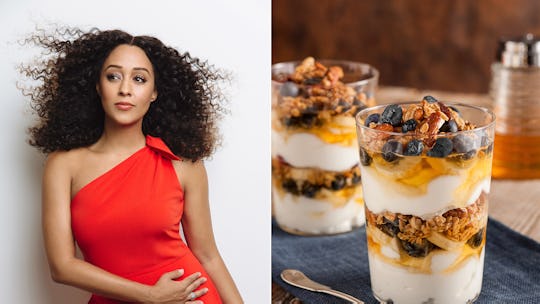 Photos: Diana Ragland (left); National Honey Board (right).
You'll Definitely Want To Steal Tia Mowry's Go-To Breakfast Recipes
Is there anything that tests your human strength quite like a weekday morning spent getting yourself ready for the day, feeding tiny humans, and making sure everyone is where they need to be in a timely fashion? Tia Mowry knows this reality just like the rest of us, and luckily the beloved actress and mom of two is willing to share some of her weekday morning wisdom.
"I love using the time after I put the kids to bed to prep for the next morning," Mowry shared with the National Honey Board. "Even taking 15 minutes to make overnight oats with almond milk, Greek yogurt, honey, and blueberries makes my a.m. so much simpler — especially if both Cory and I have to be on set!"
To celebrate September as National Honey Month, the National Honey Board partnered with Mowry to find out her favorite recipes that make breakfast a breeze for her and her family — and luckily, Romper was given the inside scoop. Keep scrolling to check out the simple recipes that are elevated with just a drizzle of honey, then try them out as part of your own weekday morning routine. I promise you won't regret it.