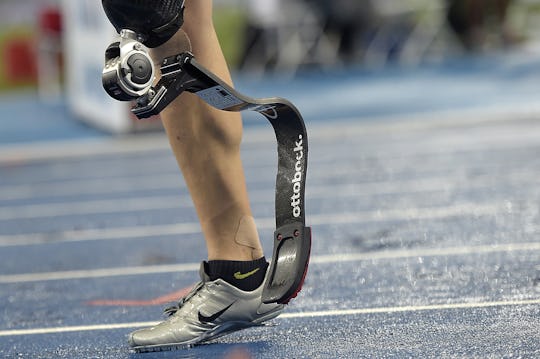 Alexandre Loureiro/Getty Images Sport/Getty Images
Young Boy Learns To Run Again With Help From A Boston Marathon Bombing Survivor
Children like to run. (A lot.) My daughter zips out of her bedroom and into mine every morning. She races through our kitchen and down the hall, and she is constantly on the go; she is always on the move. But what if, in an instant, all of that changed? What would she do if, like Jude Hill, she lost her limbs and her ability to run? I'd like to imagine she'd just get up, like Jude. I'd like to imagine she'd just keep going, like Jude. And now that the 5-year-old amputee, Jude Hill, has learned to run again, with help from a Boston Marathon survivor and some sweet new running blades, it seems nothing can stop Jude and nothing will stop Jude.
Jude was just 3 years old when he lost both of his feet in a lawnmower accident. He was fitted for prosthetic legs shortly afterward, but it took an entire year for Jude to find a pair that "worked" and didn't cause him too much discomfort or pain. (Since 2014, Jude has had three different prostheses.)
In an interview with TODAY, Jude's mother, Jennifer Hill, explained how difficult — and expensive — it has been to get Jude the right prosthetics:
We're a single-income home with five kids under the age of 10 and Jude is still a growing boy, which means we'll have to keep buying him new legs...[n]ot to mention all the work that goes into finding the right prosthetic.
Jennifer added:
He's very athletic and loves sports, especially track and field...[h]e's entering kindergarten in the fall and the thought of him not being able to partake in any sports just broke my heart.
But it appears Jude won't have to sit on the sidelines, thanks to Heather Abbott, a 2013 Boston Marathon bombing survivor and the founder of The Heather Abbott Foundation. The foundation, founded by Abbott, is her way of "pay[ing] it forward."
In the days and weeks that followed [the Boston Marathon bombing], thousands of people donated money to help all those who were injured that day...[and] that generosity made it possible for her [Heather] to have two prostheses. One device that allowed her to wear high heels again...and another that allowed her to run and paddle board again. Most amputees aren't so fortunate. Many are forced to give up the life they once knew because they can't afford the prosthesis they need to get their life back.
So Abbott created The Heather Abbott Foundation to help other amputees "get their life back" — other amputees like herself and 5-year-old Jude. In fact, when Abbott heard Jude's story, she flew to Chicago to meet him, and once she arrived, Abbott gave Jude two new high-tech blade running feet and running socket prostheses.
Jude hasn't stopped running since, and he cannot wait to start school so he can join the track & field team.
When Abbott was asked by TODAY why helping others means so much to her, her response was simple:
Since the Boston Marathon bombing was so public, there were so many organizations wanting to help me get back to my life, but not everyone is so lucky. It's just so expensive for these families, so it helps me make sense of something senseless that happened to me. [And] it's just amazing to be able to help a child do what every other child is able to do.
And it is amazing.