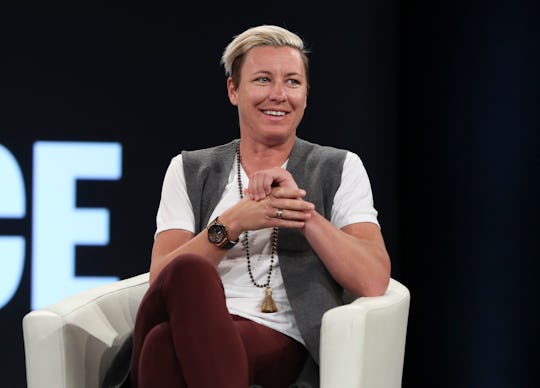 Jonathan Leibson/Getty Images Entertainment/Getty Images
Pro Athletes Rally For Young Soccer Player Disqualified Over Haircut
Eight-year-old Milagros "Mili" Hernandez had a rough weekend, when her soccer team was barred from competing in tournament finals because of her short haircut, as organizers reportedly insisted that she was a boy. But if there's any silver lining to the situation, it's the outpouring of support that Mili has seen since. This week, a host of professional athletes, including soccer legend Abby Wambach, defended the young, disqualified soccer player and her words will likely be a source of comfort and inspiration for Mili, as well as for all the other young girls out there who face obstacles when reaching for their dreams.
As previously reported, the tournament organizers in Nebraska insisted that they disqualified Mili's team because of a clerical error on her registration form that marked her as male. But officials reportedly refused to reconsider even after Mili's family presented them with her insurance information. Mili, who is so good at soccer that she plays on a team of 11-year-olds, told reporters from WOWT 6 News, "Just because I look like a boy doesn't mean I am a boy."
When Wambach heard about the injustice in Mili's situation, she posted a video on Instagram for the young soccer star, saying, "You're inspiring, you're a natural-born leader, honey, and I'm so proud of you," with the caption,
Dear Mili Hernandez, you are amazing in every way. Thank you for teaching us how to be brave and shining a light on something so hurtful. If you don't know, she is my new hero. Her team was disqualified from a tourney cause they thought she was a boy because of a clerical error that wasn't handled properly. Let's meet soon sister.
And Wambach echoed the sentiment on Twitter, writing, "Mili, don't EVER let anyone tell you that you aren't perfect just as you are. I won championships with short hair."
Wambach's got a long list of soccer accomplishments. She's a two-time Olympic gold medalist, the world's all-time leading goalscorer, and she won FIFA World Player of the Year. For any budding soccer star, a personal message from Wambach is probably one of the most exciting and inspiring things that can happen.
And Wambach isn't the only sports legend who reached out to Mili, in the wake of her disappointing tournament. In a tweet, soccer star Mia Hamm invited Mili to join her at a soccer camp, and exhorted her to "Be you!"
Tennis icon Billie Jean King, who knows a whole lot about sexism in sports, also replied to Hamm's tweet, writing, "Mili, continue to be yourself, dream big and go for it. Take Mia up on her offer."
According to The Washington Post, although Mili may have been heartbroken in the immediate aftermath of the soccer disqualification, she's already back to practicing her favorite sport. She wants to play in the pros someday, and already, the pros are wishing her all the best. Go, Mili, go!