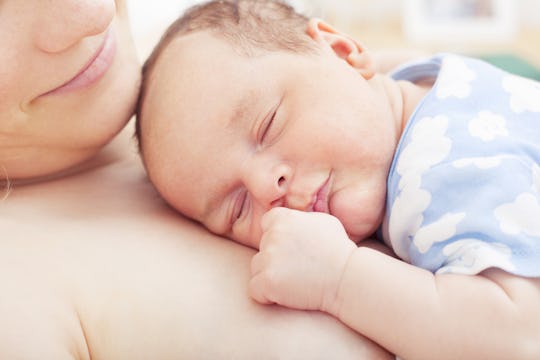 Fotolia
Your Favorite Pastime Could Actually Help Your Baby Sleep, According To Science
I think it's safe to assume that "cuddling your baby for as long as possible" is every parent's favorite thing. Still, busy schedules and older children can make endless hours of baby cuddles hard to come by. In my opinion, and according to science, you should absolutely find the time for a cuddle or two, though, because your favorite pastime could actually help your baby sleep. You guys, this is the parenting dream! Cuddles? Check. Sleep? Check. I mean, I don't know about you but I'm sold.
Of course, co-sleeping isn't the magic bullet when it comes to baby sleep. First, and while the American Association of Pediatrics (AAP) actually advises parents co-sleep with their children (read: having their child sleep in the same room as they do) the AAP does not recommend bed-sharing (read: having baby sleep in the same bed as their parents). The AAP goes on to say that bed-sharing increases the risk of Sudden Infant Death Syndrome (SIDS) for babies, as well as the risk of suffocation. Keeping those things in mind, bed-sharing is a decision parents make for themselves, and many parents choose better sleep and bonding for themselves and their babies over the universal AAP's recommendations.
If you have concerns or questions about bed-sharing, you can always ask your pediatrician for his or her recommendation for your family and your baby. And in the meantime, we can have a peek at these reasons why your baby might just sleep better after a few clutch cuddles.