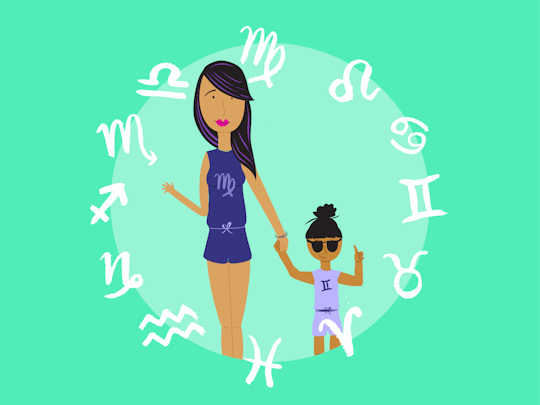 Courtesy of Caroline Wurtze;/Romper
Your Parenting Horoscope For July 31-August 6
It's true: Your zodiac sign can offer insight into plenty of random moments in your everyday life, from how you can best tackle your toddler's worst tantrums to identifying your career goals. Romper partnered with astrologer Maressa Brown to share how you can make what's going on up in the sky work for you and score even more bliss and balance in your day-to-day. Here's your weekly horoscope for July 31-August 6.
On Monday, Venus—the planet of love and beauty—moves into water sign Cancer, the most maternal sign of the whole zodiac, where it'll hang out 'til August 26. So the next few weeks should be a great time for all the warm, fuzzy, family-oriented activities you wanna squeeze in this summer. You might feel even more like a supermom than usual.
The other astrological highlight of the week: Sudden game-changer Uranus goes retrograde in Aries on Thursday—and it'll stay that way until January 2, 2018. Oof. This isn't as bad of a headache as it sounds, though, because in this case, retrograde offers an opportunity for you to benefit personally from the chaos-loving planet. It's a good time to do some self-reflection that could allow you to finally change up old patterns or behaviors that aren't working for you anymore (like maybe that workout plan you started post-baby, or that toxic relationship).
Read more below to find out what this week's forecast means for your sign.