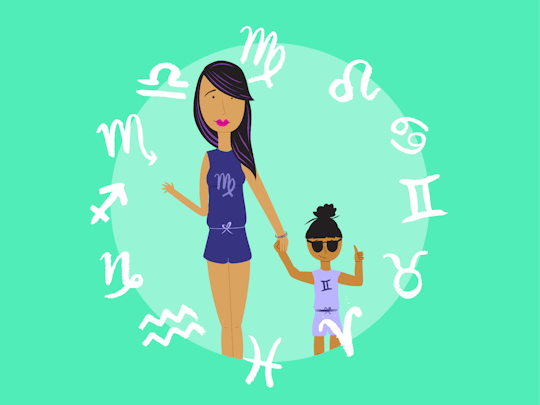 Courtesy of Caroline Wurtzel/Romper
Your Weekly Parenting Horoscope For April 24-30
It's true: Your zodiac sign offers insight into plenty of random moments in your everyday life, from how you can best tackle your toddler's worst tantrums to identifying your career goals. Romper partnered with astrologer Maressa Brown to share how every sign can put what's going on up in the sky to work for them and score even more bliss and balance in your day-to-day. Here's your weekly parenting horoscope for April 24-30.
Mercury retrograde continues to make you want to pull your damn hair out by throwing a wrench in transportation, technology, and communication. But on Monday, it forms a positive angle to Saturn, the planet of hard lessons. This can actually offer the opportunity to re-do an important conversation (maybe with your partner about trying for baby #2), or talk about a business matter that maybe didn't pan out the way you would have liked the first time around.
The biggest, most positive aspect of the week, however, is undoubtedly the Taurus new moon on Wednesday. It's a green light to dive into a potentially intimidating but also promising undertaking (like starting with a new therapist, or fulfilling that elaborate sexual fantasy involving furry handcuffs with bae). You'll be able to take advantage of this moon's sensual and ambitious energy for four days before and after it occurs.
Read more below to find out what this week's forecast means for your sign.