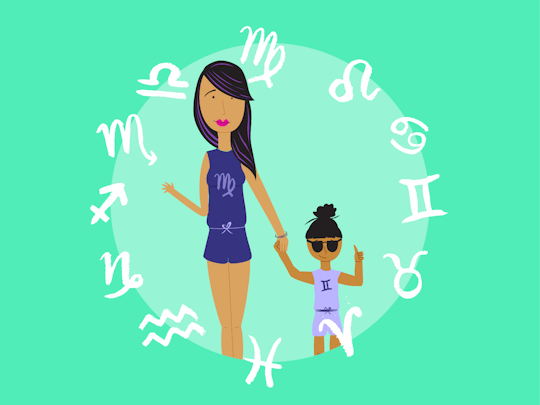 Courtesy of Caroline Wurtzel/Romper
Your Weekly Parenting Horoscope For August 7-13
It's true: Your zodiac sign can offer insight into plenty of random moments in your everyday life, from how you can best tackle your toddler's worst tantrums to how to identify your career goals. Romper partnered with astrologer Maressa Brown to share how you can make what's going on up in the sky work for you and score even more bliss and balance in your day-to-day. Here's your weekly horoscope for August 7-13.
This week is riddled with big, dramatic astrological events, a fitting kickoff for an exciting month. Monday starts it all off with a bang in the form of a full moon, but not just any ol' full moon. This is a lunar eclipse, which means it's more powerful than usual, and it's in Aquarius, which is associated with humanitarian efforts, teamwork, platonic relationships, and innovation.
On Saturday, Venus (the planet of love) and Neptune (the planet of mysticism and dreams) form a positive angle to each other, making it the perfect time for a romantic date with your bae. Unfortunately, Mercury (the planet of communication and transportation) is set to go retrograde later that day, so traffic could be a nightmare, or you may have a simple but aggravating AF misunderstanding with the sitter. Basically, patience is very much a virtue this week.
Read more below to find out what this week's forecast means for your sign.