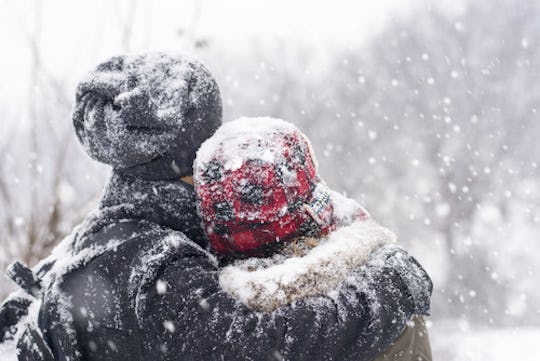 Courtesy of creativefamily/Fotolia
Your Weekly Parenting Horoscope For January 9-15
It's true: Your zodiac sign plays a part in how you can live your best life, from which sex position you should try to identifying your dream career goals. Romper partnered with astrologer Maressa Brown to share how every sign can put the current astrological aspects to work, helping you enjoy more happiness, wellness, and love every week. Here's your weekly horoscope for January 9-15.
As we put every last holiday decoration away and try not to hibernate through ice and snowstorms hitting all over the country, the sky above has some drama in store this week. Thursday is the main astrologically active day of the week, as there's a full moon in Cancer that is occurring at the same time as a few other bold aspects.
The full moon in maternal, emotional Cancer opposes the sun, which is in hardworking Capricorn. We started to feel the push-pull of these two energies and the winding down of major projects as early as yesterday (Sunday, the 8th), since a full moon's influence can usually be felt for four days plus and minus the date it's exact. At the same time, we have transformative Pluto in Capricorn, expansive Jupiter in Libra, and change-maker Uranus in Aries. So, we have a Cardinal Grand Cross, which means all five of these major planets will be in what's called a cardinal sign. Cardinal signs are all about restless, forceful, and spontaneous energy and activity. In other words, the potential for conflict is sky-high!
Also on Thursday (I know!), Mercury enters nose-to-the-grindstone Capricorn, where it'll remain for three weeks, reminding us that it's no longer the holiday season, and it's time to get down to brass tacks. Ugh. Thankfully, by the end of the day, we get a sweet turn of the stars: Venus and Neptune join up in dreamy Pisces, making it easy to put rose-colored glasses on, even if the day (or week, eesh) has been all sorts of stressful. Hang in there, mama!
Read more below to find out what this week's forecast means for your sign.