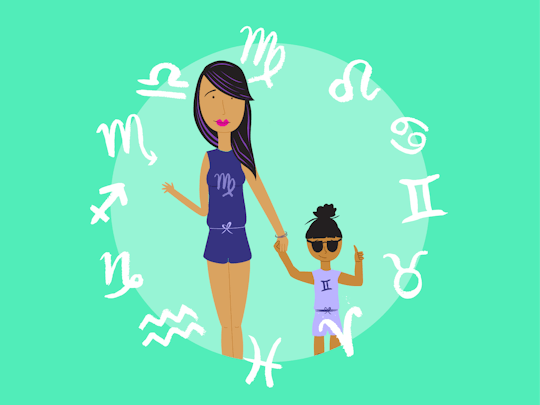 Courtesy of Caroline Wurtzel/Romper
Your Weekly Parenting Horoscope for July 17-23
It's true: Your zodiac sign can offer insight into plenty of random moments in your everyday life, from how you can best tackle your toddler's worst tantrums to identifying your career goals. Romper partnered with astrologer Maressa Brown to share how you can make what's going on up in the sky work for you and score even more bliss and balance in your day-to-day. Here's your weekly horoscope for July 17-23.
The big astrological news this week is a new moon in Leo around Sunday, July 23 — and the planet of action, go-getter Mars, which is moving from maternal, emotional Cancer into dynamic, fiery Leo on Thursday, July 20. As a result, the vibes with the people in your life could quickly go from warm, fuzzy, and sentimental to ego-centric, dramatic, and more action-oriented. You might also zero in on self-care, or how you can treat yourself with the same big heartedness you offer your L.O. and others. But the new moon means you'll have a sweet opportunity to plant the seed for something you're psyched to see come to fruition. Maybe it's time to sign up for that grad school program you keep talking about, or maybe you're pumped to try an intense workout for the first time since giving birth.
Read more below to find out what this week's forecast means for your sign.