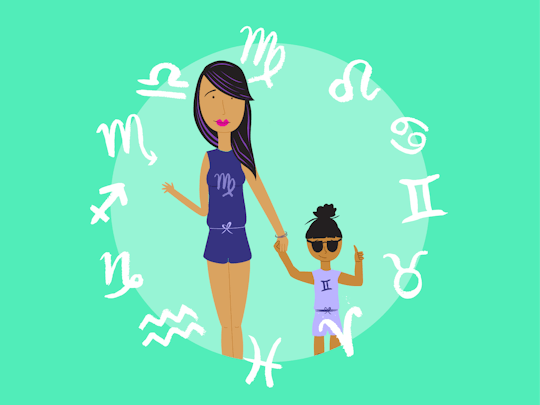 Courtesy of Caroline Wurtzel/Romper
Your Weekly Parenting Horoscope For July 24-30
It's true: Your zodiac sign can offer insight into plenty of random moments in your everyday life, from how you can best tackle your toddler's worst tantrums to identifying your career goals. Romper partnered with astrologer Maressa Brown to share how you can make what's going on up in the sky work for you and score even more bliss and balance in your day-to-day. Here's your weekly horoscope for July 24-30.
On Monday, creative pursuits will get a serious energy boost from the planet of love and beauty Venus in Gemini opposing taskmaster Saturn in Sagittarius. But the aspect could also seriously impact your relationships, maybe even by putting a monstrous deadline before you can have downtime with your L.O. and bae.
On Tuesday, the planet of communication, Mercury, moves into Virgo, which will give you an advantage in any situation where you have to zero in on minutiae (like learning all there is to know about teething or planning a friend's baby shower). Then, on Wednesday, the confident sun and go-getter Mars sync up in exactly the same spot in the sky in Leo, making it the perfect day to act on your strongest desires. (Yes, you should definitely jump your partner in the kitchen once the kids are in bed—or go on that Bumble date!)
Read more below to find out what this week's forecast means for your sign.