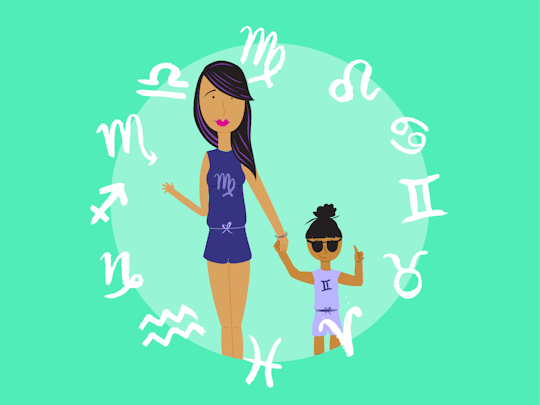 Courtesy of Caroline Wurtzel/Romper
Your Weekly Parenting Horoscope For June 19-25
It's true: Your zodiac sign can offer insight into plenty of random moments in your everyday life, from how you can best tackle your toddler's worst tantrums to identifying your career goals. Romper partnered with astrologer Maressa Brown to share how you can make what's going on up in the sky work for you and score even more bliss and balance in your day-to-day. Here's your weekly horoscope for the week of June 19-25.
This is a mom-powered week if ever there was one! It all starts on Wednesday, when the confident sun, which tends to affect your general mood, moves from communicative, frenetic Gemini into nurturing, emotional Cancer. The shift might make you want to stay closer to home, so you can enjoy wine and BBQ in the backyard and snuggle with your baby and/or bae.
On Friday, the new moon will be in family-oriented Cancer, which means that it's prime time to tackle a major project that hits close to home — like having an important conversation with your partner, or tackling a difficult dynamic you have with another relative head-on. Basically, this week is a good time to be in touch with your genuine emotions and take action.
Read more below to find out what this week's forecast means for your sign.