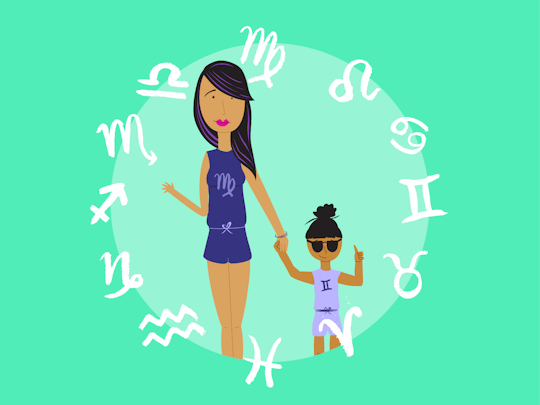 Courtesy of Caroline Wurtzel/Romper
Your Weekly Parenting Horoscope For June 5-11
It's true: Your zodiac sign can offer insight into plenty of random moments in your everyday life, from how you can best tackle your toddler's worst tantrums to how to identify your career goals. Romper partnered with astrologer Maressa Brown to share how you can make what's going on up in the sky work for you and score even more bliss and balance in your day-to-day. Here's your weekly horoscope for June 5-11.
Love, progress, and drama are major themes this week. That's because on Tuesday, Venus, the planet of love, moves into earth sign Taurus. The four-week visit should boost your attraction to all things sensual, old-fashioned, and romantic. In other words, that dinner date night with your bae you've been putting off is finally gonna happen for real!
The planet of communication Mercury also shifts signs on Tuesday into airy, talkative Gemini, so you can expect three weeks of intensified conversations and socializing. Maybe use that opportunity to set up more playdates with your besties and their L.O.s, or do lots of creative brainstorming on the job.
Finally, Friday's theatrical full moon in Sagittarius occurs in close proximity to Saturn, which is all about tough lessons and hard work. In short, put your nose to the grindstone and maybe do something you're not too thrilled about (like finally getting down to brass tacks with the toddler's potty-training plan?). It could lead to a positive upshot...
Read more below to find out what this week's forecast means for your sign.