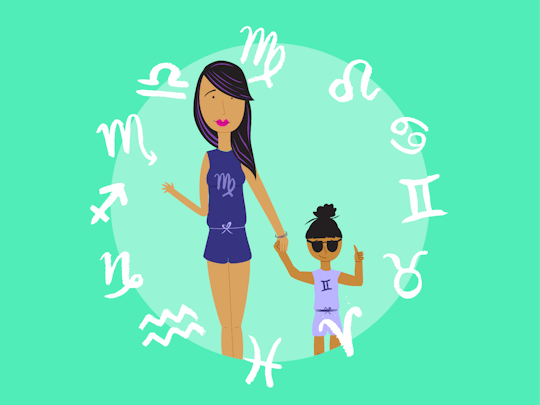 Courtesy of Caroline Wurtzel/Romper
Your Weekly Parenting Horoscope For May 15-21
It's true: Your zodiac sign can offer insight into plenty of random moments in your everyday life, from how you can best tackle your toddler's worst tantrums to identifying your career goals. Romper partnered with astrologer Maressa Brown to share how you can put what's going on up in the sky to work for you and score even more bliss and balance in your day-to-day. Here's your weekly parenting horoscope for May 15-21.
Get ready for a whole new vibe on Tuesday, thanks to Mercury's shift from fiery, impulsive, aggressive Aries to deliberate, down-to-earth, sensual Taurus. So when your partner forgets to swipe some SPF on your kids, you probably won't be as quick to freak out as usual.
On Friday, there's potential for you to experience a sudden but positive shift when it comes to changing up your traditions or routines. (For instance, maybe your toddler actually turns out to be cool with sleeping in her big girl bed. Who knows? A mom can dream.) And on Saturday, the sun moves into Gemini for a month, setting the stage for lots of social events (yay, graduation/wedding season!), which will either make you feel super-popular or like you want to pull your hair out.
Read more below to find out what this week's forecast means for your sign.