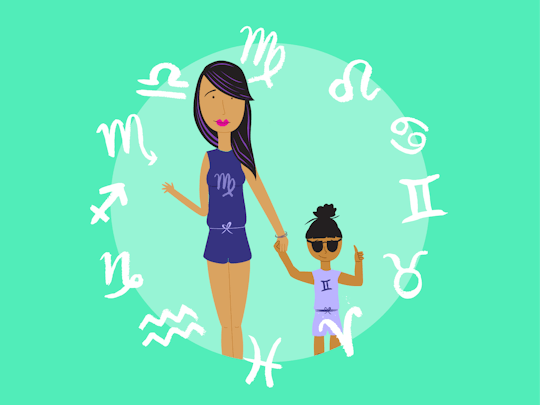 Courtesy of Caroline Wurtzel/Romper
Your Weekly Parenting Horoscope For May 29-June 4
It's true: Your zodiac sign can offer insight into plenty of random moments in your everyday life, from how you can best tackle your toddler's worst tantrums to identifying your career goals. Romper partnered with astrologer Maressa Brown to share how you can make what's going on up in the sky work for you and score even more bliss and balance in your day-to-day. Here's your weekly horoscope for the week of May 29.
Memorial Day weekend means that it's summer, basically, so time to bust out your cute sunnie and celebrate with a bottle of rosé. But on Monday, you'll want to be wary of the fact that aggressive Mars, which is currently in changeable Gemini, is opposing bossy Saturn, which is in ballsy Sagittarius. Perfectionism, workaholism, and conflicts that catch you off-guard might be the theme of what's supposed to be a pretty chill day.
Relationships are also on everyone's radar this week. On Thursday, Venus in dynamic Aries forms a positive angle to Saturn, urging you to step up and be even more committed and present with your partner — or, if you're single, to seek out a connection. And on Sunday, Mars moves into maternal Cancer for six weeks, so you may end up putting even more pressure on yourself than usual to be a supermom. Oof!
Read more below to find out what this week's forecast means for your sign.