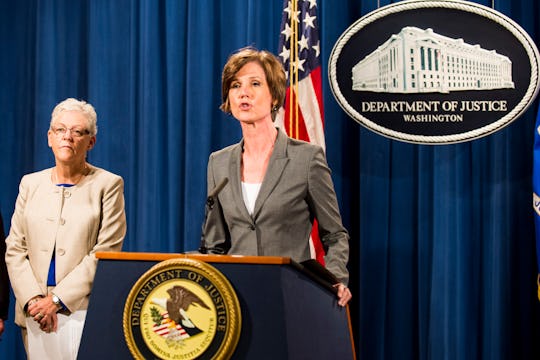 Pete Marovich/Getty Images News/Getty Images
Jokes About Sally Yates' Firing Miss The Point
In a stunning move on Monday evening, the Trump administration announced it had fired acting Attorney General Sally Yates. The move followed Yates' order to Justice Department officials not to defend Trump's executive order on immigration last week. Immediately, social media was awash with a firestorm of "you're fired" memes and tweets mocking and commenting on Yates' dismissal — which may have occasionally been humorous, but on the whole seemed to miss the gravity of the situation.
"The acting Attorney General, Sally Yates, has betrayed the Department of Justice by refusing to enforce a legal order designed to protect the citizens of the United States," the White House wrote in a statement Monday night. Officials added,
This order was approved as to form and legality by the Department of Justice Office of Legal Counsel. Ms. Yates is an Obama Administration appointee who is weak on borders and very weak on illegal immigration. It is time to get serious about protecting our country. Calling for tougher vetting for individuals travelling from seven dangerous places is not extreme. It is reasonable and necessary to protect our country.
On Twitter, pundits and politicos reacted accordingly to the sudden firing. "Remember the name Sally Yates," author Victoria Aveyard tweeted.
"In case there's anyone out there applying for #AttorneyGeneral, #SallyYates just showed how the job is supposed to be done," Democratic Rep. Joe Kennedy III of Massachusetts wrote from his official Twitter, alluding to Yates' stubbornness in refusing to violate what she believed to be constitutional law.
With darker undertones, one Twitter user, a lawyer, noted that Yates' dismissal was a harbinger for more concerning things to come. "Note that Sally Yates wasn't refusing to act bec[ause] it contravened "G_d's law" or her "morals," but bec[ause] she wouldn't violate federal law," he wrote.
The general Twitter public, however, had different ideas:
It's unlikely that Yates hadn't seen the dismissal coming — Trump, after all, has a penchant for reshuffling, as evidenced by the later phases of his primary and general election campaign (wherein Trump went through three point-men in almost as many months). And Yates, an Obama-administration alum who had been acting as something of a placeholder for presumptive incoming AG Jeff Sessions, who was busy battling through tumultuous Senate hearings.
Perhaps the most concerning aspect of Yates' departure, however, was the notion that Trump, unhappy that Yates had dared act in discordance with his orders, would fire Yates so suddenly — it was a clear sign to many, some argued, that Trump was attempting to make a political example of the acting AG, to ward off any possible future mutiny.
"The firing of #SallyYates is confirmation that this system is now indisputably a totalitarian regime," writer and self-described advocate Francisco-Luis White argued on Twitter. "Nothing going forward is far-fetched."
While some have found humor where it's unwarranted, others have seen the rough water that lies ahead: Yates may be the first to go, but she most certainly won't be the last.