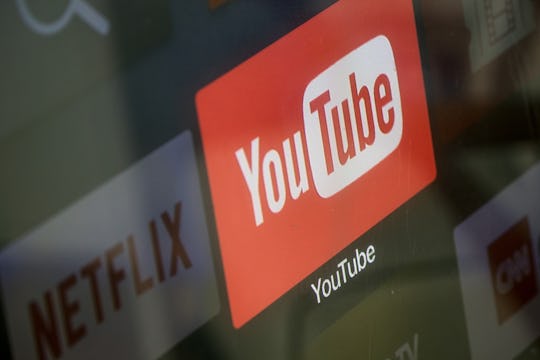 Chris McGrath/Getty Images News/Getty Images
Here's How You Can Use YouTube's New Safety Features To Better Protect Your Kids
Over the last few months, YouTube has come under fire for a slew of inappropriate videos featuring beloved children's characters in unsettling situations. These arguably creepy videos would filter into the YouTube Kids app undetected, a New York Times exposé found, and were viewed by millions of impressionable kids. In that time, Google, YouTube's parent company, has made some strides to tackle the issue and the faulty algorithms behind the problem. And as part of that, YouTube Kids will roll out three new features for parents over the next year that are meant to make the kid user experience less... concerning.
Google announced on Wednesday that the company is introducing new parental control options for its YouTube Kids app so that little ones one view appropriate content, according to Tech Crunch. Starting this week, parents will be able to limit the kid-centered app to only display content that has been reviewed by the YouTube Kids team, Tech Crunch reported — an update that was rumored to be in the works earlier this month. In other words, you can turn off the app's search option so that your kids only view content that real people had their very real eyeballs on, instead of keeping your fingers crossed that the algorithms didn't let that disturbing video of Peppa Pig being tortured slip through.
That's not all. Also this week, YouTube Kids will start to offer team-chosen "collections of trusted channels" focused on different subjects, such as music, sports, and arts & crafts, according to Google's official blog. This way, parents can pick the topics and channel collections, which include content from PBS KIDS and Sesame Workshop, that they only want their kids to access and view, Google wrote in its blog announcing the updates.
James Beser, product director for YouTube Kids, says in an email statement to Romper:
At YouTube Kids we believe every family is unique so we've worked hard to build personalization features into our platform. Kids love the recommended videos in the app — and parents have told us they are also interested in more ways to personalize the app for their specific style. Throughout this year, we'll roll out a more robust suite of tools for parents to customize the YouTube Kids experience. From collections of channels from trusted partners to enabling parents to select each video and channel themselves, we're putting parents in the driver's seat like never before.
The third update won't roll out until later this year, though. That option will give parents the power to control which content and channels their children would be able to access, according to Quartz. How? By being able to handpick every single video available to kids through the app, Quartz reported.
Malik Ducard, global head of family and learning content for YouTube, also writes to Romper:
Over the last three years, we've worked hard to create a YouTube Kids experience that allows kids to access videos that are enriching, engaging and allows them to explore their endless interests. Along the way, we've never stopped listening to feedback and we're continuing to improve the app.
These new parental controls are extra insurance that young ones won't accidentally see a video of Chase from Paw Patrol in a menacing scenario. Late last year, YouTube began putting age restrictions on videos flagged in its main app that would then be reviewed by YouTube's team of moderators, according to Mashable. Any content that violates the new policy would be age-restricted by moderators, and won't filter into the YouTube Kids app, Mashable reported.
Whether these new updates will solve the problem of fake kid-targeted videos being made available to children is yet to be seen. But at least YouTube is making the effort to tackle the issue. If only we didn't have to wait for it to be a problem in the first place, though.
Check out Romper's new video series, Bearing The Motherload, where disagreeing parents from different sides of an issue sit down with a mediator and talk about how to support (and not judge) each other's parenting perspectives. New episodes air Mondays on Facebook.