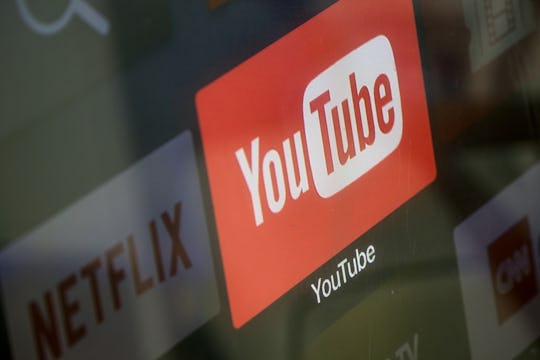 Chris McGrath/Getty Images News/Getty Images
YouTube Reportedly Collected Kids' Data, & Here's What Parents Need To Know
Another week, another controversy over data collection. But this time, Facebook is not at the center of the storm. Instead, a coalition of 23 child advocacy, consumer, and privacy groups has urged the U.S. Federal Trade Commission to probe Google's practices around children and their online activities. Why? Because YouTube reportedly collected kids' data despite a child protection law in place for the last 20 years.
In a complaint filed with the FTC on Monday, the coalition has charged that Google has violated the Children's Online Privacy Protection Act (COPPA) by gathering personal information on young kids who use YouTube, according to The Guardian. COPPA, which was enacted by the federal government in 1998, prohibits websites and online services from collecting, using, and disclosing data from and about children under the age of 13.
Specifically, the coalition claims in the complaint, Google had violated the child privacy law by collecting and tracking the location, device identifiers, and phone numbers of young YouTube users without first obtaining parental consent — one of COPPA's strict requirements, The Guardian reported. The group also alleges that Google was aware that youth younger than 13 years old use YouTube, despite the company claiming the video streaming service is for people older than that age.
A YouTube spokesperson tells Romper via email:
We are reviewing the complaint and will evaluate if there are things we can do to improve. Protecting kids and families has always been a top priority for us. Because YouTube is not for children, we've invested significantly in the creation of the YouTube Kids app to offer an alternative specifically designed for children.
But the coalition's claim that Google knows full well that more young kids use YouTube, as opposed to YouTube Kids, is not so far-fetched: The complaint cited a 2017 Brand Love study that found 96 percent of children ages 6 to 12 know about YouTube, and 90 percent of those kids use the video streaming service. More than 80 percent do so daily, according to the Brand Love study.
And the frequency with which those children use YouTube is increasing. The Brand Love study discovered that 65 percent of young kids who visited the site or app in 2017 did so several times a day. In 2015, that number was only 45 percent.
Comparatively, only 85 percent of children ages 6 to 12 were aware of YouTube's spin-off, YouTube KIDS, and only 61 percent used the kid-centered app, according to the Brand Love study.
Josh Golin, executive director of the Campaign for a Commercial-Free Childhood (CCFC), which is part of the coalition, said in a press release:
For years, Google has abdicated its responsibility to kids and families by disingenuously claiming YouTube — a site rife with popular cartoons, nursery rhymes, and toy ads — is not for children under 13. Google profits immensely by delivering ads to kids and must comply with Coppa. It's time for the FTC to hold Google accountable for its illegal data collection and advertising practices.
What's more: The advocates alleged in their FTC complaint that YouTube encourages users to create kid-targeted channels — some which have millions of subscribers and billions of views — on its main service because the company could earn $5 million in ad revenue from just one of those channels, according to Deadline. The coalition also claimed that Google's ad technologies allow brands to gear their content towards young YouTube users through certain keywords, such as "child," "kid," "toddler," "baby," or "toy," Deadline reported.
Whether or not the FTC takes up the investigation remains to be seen, but the fact that the complaint was filed in the first place shouldn't exactly be surprising, given recent complaints about Facebook and Google.