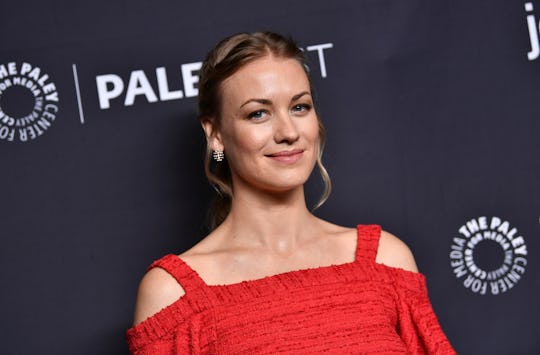 Emma McIntyre/Getty Images Entertainment/Getty Images
Yvonne Strahovski Of 'The Handmaid's Tale' Is Pregnant With Her First Child
Fans of the award-winning Hulu series The Handmaid's Tale are painfully familiar with one of the show's villains, Serena Waterford (played by Yvonne Strahovski). She's the wife of Commander Fred Waterford, for whom the main character "Offred" (aka June) — played by Elisabeth Moss — is forced to serve as a surrogate. Like the majority of women in the future dystopian society of Gilead, Mrs. Waterford is barren. So a handmaid unwillingly conceived with her husband (only not really in this case, but that's a long story) and carrying this child for the Waterfords to raise as their own. (Pretty messed up, right? Welcome to the mindf*ck that is Margaret Atwood's novel come-to-life.) Well apparently, Yvonne Strahovski of The Handmaid's Tale is pregnant with her first child, and Twitter cannot even.
The mom-to-be spilled her happy news on Friday with an adorable bump photo on Instagram, Us Weekly reported. "I am very excited to finally be able to share my special news - I'm going to be a Mama!" Strahovski. wrote alongside a side shot of herself cradling a bump — and sprinkled with heart emojis. "So very exciting to watch & feel this little Peanut growing every day!" This will be Strahovski's first child with her husband, Tim Loden, the Daily Mail reported.
But still. The irony of Strahovski's pregnancy has not escaped fans of The Handmaid's Tale. Shortly after the baby news was revealed, Chrissy Teigen said what was basically on everyone's mind. "Feeling very hurt and lied to right now," Teigen wrote, while also retweeting a Daily Mail article about the actress' revelation.
Some Twitter users made it a point to put "religious" phrases from the series to good use.
Others hoped this meant Offred would be off the hook.
Or perhaps Serena will off Offred because her services are no long needed?
Others wondered if Strahovski's pregnancy would make a genius plot twist in The Handmaid's Tale.
And apparently, some Twitter users are having a particularly difficult time separating Strahovski from her role as Mrs. Waterford.
Just last month, Strahovski opened up about how playing Serena Waterford had actually delayed the process of starting a family with her husband. "[The role] hasn't put me off at all, it's definitely something I want for my future," she told Stellar magazine in April. Strahovski continued:
[Serena Joy] has made me wary of starting that process. I just always imagine if I have a child at work — screaming at people or throwing things around — how on earth will that affect something growing inside of me?
For those who still can't quite separate Strahovski from Serena Waterford, perhaps the actress' thoughts on playing Mrs. Waterford will help you out. "I struggled with this character a lot because I don't agree with anything she does, and I had to turn my judgment off in order to humanize this woman," Strahovski told NBC Chicago in May 2017. "It's powerful, but it's also scary, because… it gives insight into the real world, and what people's true motivations are when when we don't agree with what they're doing, when they're in authority positions." Another reason to love this talented actress: She wore black to the Golden Globes in support of the #Timesup movement.
Serena Waterford may be an evil, barren wife on Hulu's The Handmaid's Tale who is complicit with — and even helped created — the totalitarian society of Gilead. But in real life, Yvonne Strahovski seems like a feminist bad*ss I could really connect with. As difficult as it may be to separate the character Mrs. Waterford from the actress, this is definitely a cause for celebration. Blessed be the fruit!