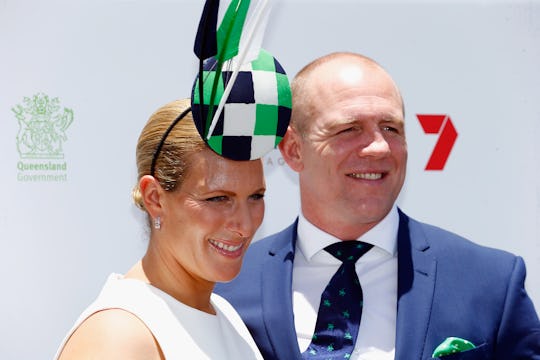 Jason O'Brien/Getty Images Entertainment/Getty Images
Zara Tindall Shares How Suffering A Miscarriage Made Her Relationship With Her Husband Stronger
A miscarriage can be one of the most difficult and isolating things to experience. Although more women are openly sharing their experiences with pregnancy, miscarriage is still sometimes a taboo topic. But, more and more women are opening up. For example, in recent interviews, Zara Tindall shared how suffering a miscarriage ultimately strengthened her relationship with her husband and the heartbreak they both endured during that difficult time.
Tindall is a member of the British Royal Family, as noted by Hello! Magazine, as she is the 37-year-old daughter of Anne, the Princess Royal, who is the second child and only daughter of Queen Elizabeth and Prince Philip, according to Britannica. However, Tindall is not an HRH — or "Her Royal Highness" — and she has no official royal title, as Hello! Magazine reported, since Princess Anne was insistent that her children remain without a title.
With all that said, though, she often makes headlines and media appearances, especially regarding her life events. For instance, on July 30, 2011, according to The Telegraph, Tindall married former rugby player Mike Tindall in a quiet ceremony. And just a few years later, Tindall gave birth to the couple's first child, Mia Grace Tindall, on January 17, 2015, as reported by the BBC. The two also have a second daughter, Lena Elizabeth Tindall, born on June 18, 2018, as reported by MSN.
Before Lena's birth, though, Tindall experienced two pregnancies that ended in miscarriage, as reported by People. And in a recent interview, she opened up about her experience and the impact they've had on her life.
In a recent interview with BBC Breakfast, Tindall opened up about the experience, discussing how her husband felt "helpless" throughout the ordeal. As a member of the royal family, Tindall's pregnancies are still announced to the public, as noted by the BBC, and at the beginning of her interview, according to BBC Breakfast, Tindall shared how that affected her, saying:
I think that's the hardest thing in our situation is that everyone knew and very much, you know, when things like that happen normally, it's just your family and friends. But unfortunately, everyone knew about it.
Tindall went on to share that they did receive plenty of letters from people sharing they had gone through the same thing. "Thank you to all those people," Tindall said in the same interview. "But it just showed how often it does happen."
In discussing how multiple miscarriages impacted her relationship, Tindall shared she had a "very supportive family" and her husband was "incredible," going on to say:
It's very different for us, because we're carrying the child, but for guys I guess it's kind of that helpless feeling, which must be incredibly horrible for them. At the end of the day, they've still lost a child too.
Tindall concluded her BBC Breakfast interview by noting, "Being helpless is horrible, isn't it? So... it's been a horrible road but, you know, actually now we've come out the end of it, hopefully it makes you a stronger family."
In the months since the birth of her second, Tindall has gradually returned to one of her passions. An experienced and award winning equestrian, who won a silver in the 2012 Olympics, Tindall recently returned to horse riding after the birth of her daughter, Lena. (Tindall can briefly be seen riding a horse before the start of her BBC Breakfast interview.) On her return to horse riding, Tindall said, according to People, that her "body was in so much shock," but it "feels good, actually" to be back at it.
While miscarriages may be hard to discuss — especially when there's a new layer of difficulty added when your pregnancy has been in the public eye — Tindall's openness about her own experience may help other women (and men) cope with their own loss.