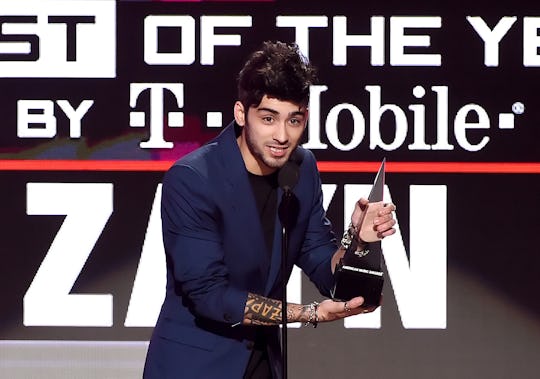 Kevin Winter/Getty Images Entertainment/Getty Images
Zayn Malik's One Direction Moment At The AMAs Was So Subtle, You May Have Missed It
You can take the boy out of the band, but you can't take the band out of the boy. At least, not completely. While accepting the award for Best New Artist of the Year at the American Music Awards on Sunday night, Zayn Malik made a comment that made a few people raise their eyebrows. At least, those who were paying close attention. Because Zayn Malik's One Direction moment at the AMAs was pretty subtle.
As the AMAs announcer made clear, 2016 marked the first time Malik was nominated as a solo artist. Prior to that, Billboard noted that Malik received seven AMAs as a member of One Direction. So it must have been a little awkward for the British-born singer to take the stage without Harry Styles, Niall Horan, Liam Payne, and Louis Tomlinson. And it was made more awkward by his off the cuff comment. Upon receiving the award, Malik took to the mic and said something that made fans scratch their heads.
"This one just has my name on it, right?"
Though he said it in a joking manner, fans really didn't know how to take the comment. Some saw it as a dig towards his former bandmates and former life as a boy bander.
It's understandable why some people would interpret Malik's comment as a diss to the band mates he left behind. Following Mailk's March 2015 split from the band, there was some obvious and understandable tension. Though everyone tried to play it cool, things came to a head that may when Mailk and Tomlinson had a nasty Twitter exchange. According to People, Tomlinson made a rude remark towards Mailk's friend Naughty Boy. Malik respond by tweeting, "remember when you had a life and stopped making bitchy comments about mine ?" Yeah, pretty nasty.
That tweet — along with a slew of other reasons — caused a rift between the former friends. According to Hollywood Life, Malik and Tomlinson are "not on friend terms" as of January 2016. And he may not be on solid ground with the other members either. In a separate article, Hollywood Life reported that Malik was nervous to run into Horan at the Sunday night award show. Perhaps Malik's comment was just a case of the nerves?
Regardless of whether Malik's remark was meant as a joke or a jab, many fans didn't seem to notice. Rather, they were so excited about him taking home the award for Best New Artist of the Year.
Congrats to Zayn, and here's hoping 2017 will bring some peace between him and the boys.