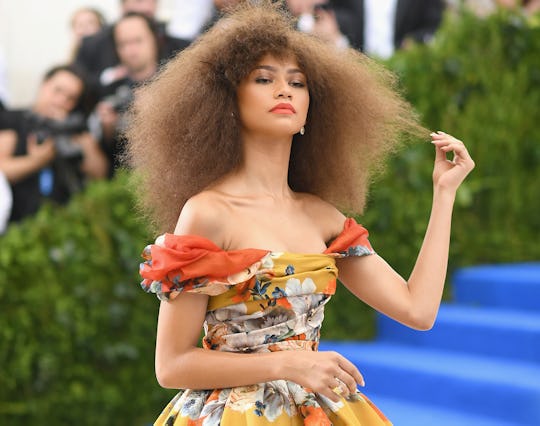 Dimitrios Kambouris/Getty Images Entertainment/Getty Images
Zendaya's Met Gala Dress Inspires An Adorable Mini-Me
Zendaya's amazing outfit at the Met Gala drew plenty of praise from the masses this week, including an Instagram shout-out from fashion queen Rihanna. But it wasn't until Saturday that the singer and actress received the ultimate praise for her outfit, when a little girl dressed up in a Zendaya Met Gala-inspired dress and struck a pose. The "little princess," as Zendaya called her, channeled everything from Zendaya's vibrant dress and natural hair to her carefree, confident attitude.
Zendaya posted the picture of her tiny imitator on Instagram this past Saturday. Mini Zendaya was wearing a bright yellow patterned dress and red lipstick, and nailed the star's confident pose, hand in hair and all.
Zendaya shared the picture after Twitter user Kanaya Monét posted the shot of her 4-year-old daughter, Aili Adalia, recreating Zendaya's look on Twitter. She tagged Zendaya, thanking her for being "such a huge inspiration" and role model for her young daughter.
The picture is adorable, but it also serves as a reminder that little girls of all backgrounds need to see women who look like them in the media. As Beyoncé explained when she accepted a Grammy for Lemonade in February:
It's important to show images to my children that reflect their beauty, so they can grow up in a world where they look in the mirror, first to their own families, as well as the the news, the Super Bowl, the Olympics, the White House and the Grammys and see themselves and have no doubt that they are beautiful, intelligent, and capable. This is something I want for every child, of every race.
For little girls like Aili, it matters to see celebrities like Zendaya rocking their natural beauty, and to see women they admire who look like them — rather than just the mainstream Eurocentric images of women that dominate the media.
Aili's on-point dress-up wasn't the only praise Zendaya received over her Met Gala look. Rihanna — who most people agreed won the Met Gala on Monday — posted a picture of Zendaya's look on Instagram with a caption that simply read, "Brown goddess." (Zendaya, in return, freaked out at the attention from Rihanna in an adorable Snapchat video, telling followers, "I never thought a post could mean so much to me in all my life. That post alone — my skin is clearing up.")
Judging by Zendaya's re-post of Aili's dress-up, however, it looks like Aili's compliment by imitation meant just as much. Slay on, little princess, slay on.