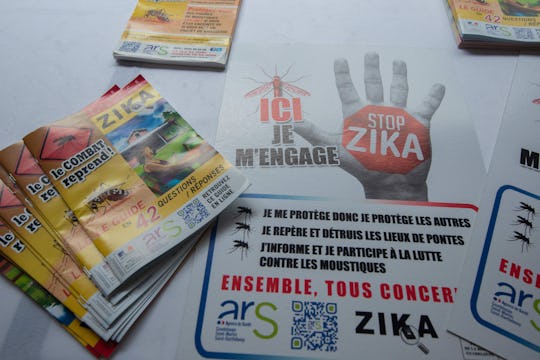 HELENE VALENZUELA/AFP/Getty Images
Zika Can Be Transmitted Sexually Between Men, CDC Finds
The Centers for Disease Control and Prevention has been breaking news about th spread the Zika virus in the United States that looks bleaker and bleaker each week. While the cases thus far have stemmed from travel abroad to equatorial countries, the disease is predicted to spread to North America as the temperatures rise in the summer. But new research shows that the disease can be spread by other means, as well. On Friday, the CDC confirmed that Zika can be transmitted sexually between men.
There had been confirmed cases of heterosexual transmission of the Zika virus, but this is the first confirmed case of homosexual transmission. According to ABC News, CDC officials said that the ability for Zika to be sexually transmitted "might contribute to more illness than was anticipated when the outbreak was first recognized." The CDC published its findings in its regular Morbidity and Mortality Weekly Report. The findings also support the CDC's previous findings that Zika can live in semen — potentially even longer than it can live in blood.
The story of this transmission is not out of the ordinary for the spread of Zika in the United States. A man spent a week in Venezuela, where he was infected with the virus via a mosquito bite. He returned home to Dallas, Texas, and two days later developed symptoms of contraction, which included a fever, a rash, and pink eye. Five days later, the man's partner also developed Zika symptoms, including headaches, fatigue, and a mild fever.
They sought medical attention, and through blood tests, researchers confirmed that both men had the Zika virus and that the second man most likely contracted it via sexual contact since he was not on the trip and had not been bitten by a mosquito lately. As is typical for healthy individuals, the symptoms of the virus were mild, and both men were in good health about one week later.
The CDC's report acknowledged the difficulty in tracking the virus now that this mode of transmission has been confirmed:
Such cases highlight the need for clinicians to remain vigilant for and continue reporting any suspected cases of Zika virus infection to their state or local health departments. This includes suspected infections in symptomatic persons without travel history, but who report unprotected sexual contact with a person who has traveled to an area with active Zika virus transmission.
Just this week, the CDC declared that there is conclusive evidence of a link between the Zika virus and the birth defect microcephaly. Given the predicted spread of Zika to the United States, the danger it poses to pregnant women, and the number of cases in other countries, health officials have asked Congress for $1.9 billion to help fight the spread of Zika in the U.S. and abroad, though that funding is being contested by lawmakers or might not be approved until September (well after the summer, when the spread of Zika will likely get worse).