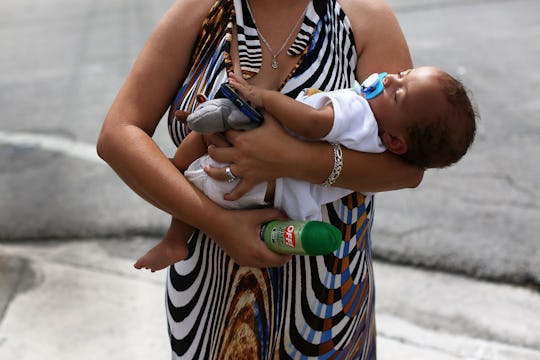 Joe Raedle/Getty Images News/Getty Images
Zika Case In Palm Beach Indicates Florida's Outbreak May Be Getting Even Worse
Health agencies and government officials have been grappling with the Zika outbreak in Florida since was it was first identified last month, but a new case identified in the state has increased worries that virus's presence in Florida may be getting worse. On Monday, officials identified a Zika case in Palm Beach and believe it's related to the recent outbreak in northern Miami, which has led to growing concern, as it was most likely transmitted locally, rather than sexually or while traveling abroad. The sudden locally-acquired Zika outbreak in Florida is the first time the virus has spread in the continental United States through infected mosquito bites.
There are now 17 cases of Zika that have been locally transmitted in southern Florida, including the latest case in Palm Beach County. Health officials have been working tirelessly to rid the region of Aedes aegypti mosquitoes — the species that has been related to spreading Zika — by spraying pesticides. According to ABC News, officials have also been going door to door to reach out to any other people who might been infected and have been passing out insect repellent to residents as well as the homeless to use to protect themselves.
Florida Gov. Rick Scott released a statement on Monday, responding to the latest case in Palm Beach, and said he and the Departments of Health and Education were taking steps to educate Floridians, especially students, about Zika prevention while the determine source of the latest infection, as it was learned that individual linked to the Palm Beach case had recently traveled to Miami.
"While this investigation is ongoing, DOH still believes active transmissions are only taking place within the identified area that is less than one-square mile in Miami-Dade County," Scott said in the statement. "With the announcement of this new case, and the upcoming new school year, I have directed DOH and DOE to closely work together to ensure students, parents, educators and district leaders have all the resources and guidance they need to combat the Zika virus."
The Florida governor also said that Zika teacher toolkits and materials would be passed out at school districts, state colleges, and public universities to help educate students and their families on how to the virus spreads and what they can do to help stop it.
This latest Zika case surely makes the threat of contracting the virus locally even more likely than it was originally thought it would be. According to the Centers for Disease Control and Prevention (CDC), there are now more than reported 1,800 cases of the virus in the continental United States.
The Zika outbreak in Florida also led the CDC to advise pregnant women to avoid a specific place — a one-square-mile area north of downtown Miami, marked by three streets and a highway — in the continental United States. It was the first time the CDC has ever issued that type of travel advisory for expecting moms, which has led people to question why the warning isn't broader.
"We've been asked, 'Why not all of Miami?'" CDC Director Tom Frieden told The Washington Post last week. "There's no evidence that there's any Zika spreading anywhere else in Miami."
Still, the threat of Zika spreading continues to linger and the fear of contracting the virus for moms-to-be continues to grow. The Zika virus poses the biggest threat to pregnant women, as it's been linked to devastating birth defects, such as microcephaly or unusually small heads, which can lead to underdeveloped brains.
While Zika's presence in Florida is concerning, expectant moms can do their best to protect themselves firstly by avoiding travel to regions where the virus has been located. They should also apply ample amounts of bug spray before going outside and stay as covered up as possible to reduce any chance of being exposed to an infected mosquito.
Though the continual headline-grabbing news has left most Floridians (and U.S. citizens) feeling uneasy, there is one silver lining: In the midst off all of the news, the way officials have worked quickly to narrow in on a specific location and have taken action to fight Zika does provide a bit of comfort during an unsettling time.