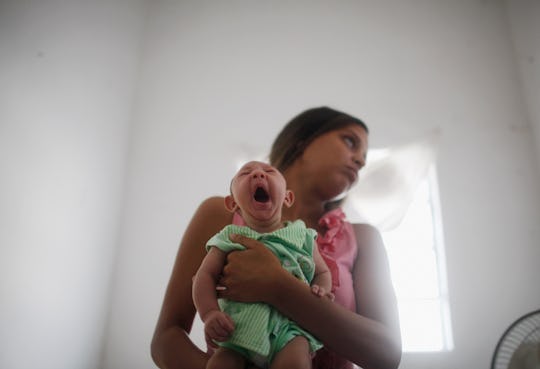 Mario Tama/Getty Images News/Getty Images
Zika Definitively Causes Birth Defects, According To New CDC Report
Months after Zika was first introduced to the world as a potential threat to pregnant women, the Centers for Disease Control has reached a conclusion: Not only has Zika virus, a mosquito borne illness, become a worldwide problem, a comprehensive review of research conducted over the past few months has determined that Zika definitively causes birth defects as well, according to the CDC.
Until now, the CDC has suggested that evidence shows that there is a link between Zika and birth defects, but was never definitive with their statements. Now, they confidently say that Zika causes birth defects, in part to their most recent published review in the New England Journal of Medicine.
According to Time Magazine, the CDC says that there is no "single piece of evidence" that proves the link between the virus and birth defects, but by reviewing studies and criteria that are used to determine a link between a virus and birth defects, the CDC was able to come to their conclusion.
"This is a study that marks a turning point in the outbreak. It is now clear, the CDC has concluded, that Zika does cause microephaly," said CDC director Dr. Tom Frieden, according to Time Magazine. "There is still a lot we don't know, but there's no longer any doubts."
According to a press release from the CDC, a woman who is infected by Zika during pregnancy has an increased risk of having a baby with health problems, such as microephaly or other severe fetal brain defects. It does not mean that all pregnant woman with Zika will have a baby with health problems, as some women who have been effected by the outbreak have delivered babies that appear to be healthy.
For the CDC, determining that Zika definitely causes birth defects allows them to drive towards prevention efforts, focus more on research towards the defects, and reinforce the need for direct communication when talking about the risks of Zika. This will allow them to focus on conducting more research to hopefully reduce the effects of Zika during pregnancy somewhere down the line.
The CDC is not changing any of its current guidelines when it comes to Zika as a result of the finding, still warning those about travel and being protected against mosquitos. The CDC still advises that pregnant women should avoid travel to areas where Zika is actively spreading and to talk to a health care provider if they believe they are affected with the virus.
While it may be years before the CDC gets any answers as to what part of the virus causes the birth defects or how it causes microephaly, the CDC determining the definitive link brings us one step closer to finding those answers.