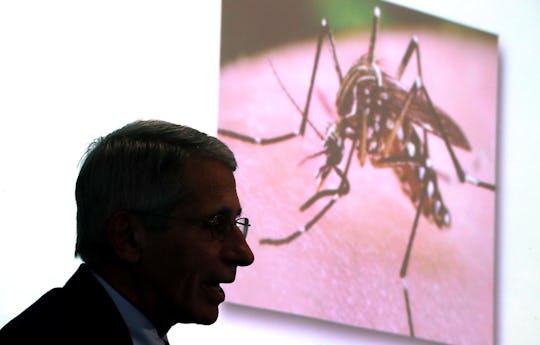 Chip Somodevilla/Getty Images News/Getty Images
Zika & Guillain Barre Are Officially Linked & Here Are The Effects
As children go back to school and the sun goes down earlier, there will be less time spent outdoors by many families — which means that mosquitos will no longer appear to be a threat for some. But just because mosquitos might finally no longer feel like a threat doesn't mean that Zika isn't. Zika is still prominent, even more so now that Zika and Guillain-Barre are officially linked, proving the virus can cause even more harm.
According to the Huffington Post, a new study has revealed that there is a strong link between Guillain-Barre syndrome and Zika — the mosquito borne virus that has been talked about all year. How is it proven that there is a link? According to the Huffington Post, researchers at the Pan American Health Organization "compared rates of Guillain-Barre syndrome before and after Zika" in seven different countries. What researchers found was that increases in Zika in these seven countries led to increases in Guillain-Barre. When Zika waned, Guillain-Barre waned. The states and countries examined were: Bahia (a state in Brazil), Brazil, Colombia, the Dominican Republic, El Salvador, Honduras, Suriname, and Venezuela — countries where Zika has been common.
This isn't the first time that Zika has been linked to Guillain-Barre — in February scientists found a link between Guillain-Barre and Zika in French Polynesia. However, this new study has found this evidence in a different region of the world and proves that Zika continues to be a threat.
The effects of Guillain-Barre are mainly muscle related — causing weakness in the arms and legs. According to the World Health Organization, symptoms typically start out as weakness or tingling sensations in the arms, legs, or face." According to the CDC, the syndrome rests in the nervous system, where the "person's own immune system damages the nerve cells." The weakness can last anywhere from a few weeks to a few months — but can also have lasting effects. Guillain-Barre can cause respiratory issues but ultimately depend on the person who has it and their nervous system.
According to CBS News, Guillain-Barre can lead to death — although many people survive and each case varies from person to person. "There is recovery," Dr. Bruce Hirsch, an infectious diseases specialist told CBS News. "Usually recovery is generally complete. Sometimes mild weakness can occur."
According to NBC News, a man died from Zika related paralysis caused by Guillain-Barre syndrome in August. But these stories should not scare people. According to the CDC, Guillain-Barre syndrome is incredibly rare, infecting only 3,000 to 6,000 people in the United States each year.
If you have traveled to a Zika-infected region and are experiencing tingling sensations, consult a doctor. This new study further proves that Zika is not something people should take lightly and that potentially deadly side effects can come from it.