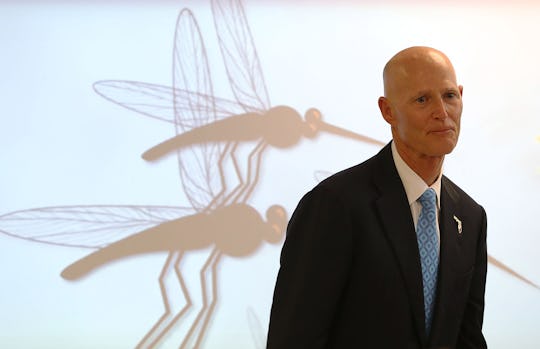 Joe Raedle/Getty Images News/Getty Images
Zika Is Hurting Tourism In Florida, Among Other Things
Florida is known for its tourism. Children flock to the Sunshine State for the theme parks, the elderly for its winters, and people in the middle for the cool beach scenes in places like Miami. But now, the spread of Zika is hurting tourism in Florida — and it's just one of many problems the virus is causing.
So far, dozens of people in the Miami area have contracted the virus, although scientists warn that the number could be higher, since some people who get Zika don't realize it. On Tuesday, Florida officials announced the first case in Pinellas County, near Tampa, which is hundreds of miles away from where the virus had been contained up until now. People are freaking out, and understandably so, since the virus can cause birth defects when contracted by pregnant women. The CDC has warned expectant mothers not to go near certain areas in and around Miami if they can help it, and it seems likely that the travel advisory will expand given the news about Pinellas County.
Analyst Stephen Anderson, from Maxim Group LLC, told Bloomberg that he was concerned about how the spread of the virus would affect Florida's tourism, which, he said, "is a $90 billion industry in Florida, with $24 billion generated in Miami-Dade County alone." Anderson expects family dining brands as well as upscale restaurants to be most affected, mentioning restaurants like Steak 'n Shake, IHOP, and The Cheesecake Factory, which do a large amount of their business in the state.
While so far the CDC is only advising that pregnant women stop their travel to Florida, and only to very limited parts of the state, it would be understandable if people were extra-cautious, and began avoiding large swaths instead. Officials and business owners worried about the impact in South Florida can look to other places that have experienced Zika outbreaks to try to gauge the possible effects on the industry, but they likely won't take much comfort in the figures. Puerto Rico, for example, experienced a decline of between 3 and 5 percent in tourism after the CDC recommended pregnant travelers stay away.
And while it may be tempting to wonder who could possibly care about tourism when the health of a baby is at risk, the loss of money from tourism could have wide-ranging effects on thousands of people, potentially causing them to lose their jobs, among other negative effects. So unless you are pregnant, there's probably no need to cancel that trip to Miami you had planned. Just make sure to wear a whole lot of bug spray.