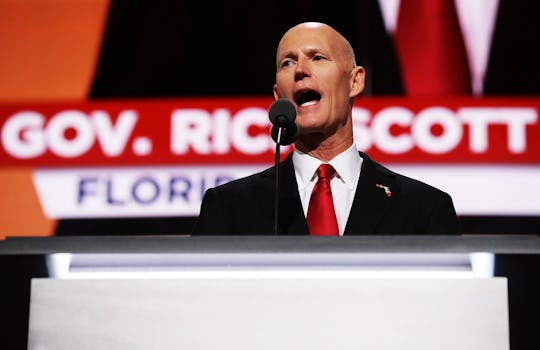 Chip Somodevilla/Getty Images News/Getty Images
Zika Is Spreading Rapidly In Florida, & Here's What That Means
As the number of people with Zika continues to rise, the more real the virus becomes. No longer is Zika something people hear about on TV — it will become something they'll have to start asking their doctors about. Zika is no longer something caught out of the country — the virus is in some mosquitos in the United States and government officials need to act fast. Most importantly, Zika is spreading rapidly in Florida and it means taking precaution is more necessary now than ever.
On Monday morning, Florida Gov. Rick Scott released an official statement from his website, calling on the Centers for Disease Control and Prevention to help the state as Zika caught from mosquitos continues to spread. It was announced the same day that 10 people in Florida are confirmed to have caught Zika through mosquitos, bringing the total number of people with mosquito-transmitted (or locally-transmitted) Zika to 14. According to the press release, Florida Department of Health officials believe that those 14 individuals have caught Zika in a small area in Miami-Dade County and believe that it is the only area of the state where local Zika transmission is active. In the release, Scott said:
Following today's announcement, I have requested the CDC activate their Emergency Response Team to assist the DOH in their research, investigation, and sample collection efforts. Their team will consist of public health experts, whose role is to augment our response to confirmed local transmissions of the Zika virus.
Scott is also advising that pregnant women or women who expect to become pregnant do not travel to the impacted area of Miami-Dade that is pictured in the map above. But what does Scott's announcement today mean? It means that Zika is spreading rapidly in one area — and could possibly happen again in Florida or other states. This also means one very important thing — the United States government needs to act fast in its response and start thinking about the long term if Zika continues to spread.
In a time like this, the response from the government will be incredibly telling. Zika affects not only men and women but it affects women's reproductive organs — as the virus is also sexually transmitted and has been linked to microcephaly, a fetal brain defect, in fetuses when the mother is infected. This means that, for the sake of women everywhere, the response from the government should be urgent and effective. It could possibly be a matter of time before Zika is locally transmitted in another state where the Aedes aegypti mosquito is prevalent.
"We anticipate that there may be additional cases of 'homegrown' Zika in the coming weeks," Lyle Petersen, the incident manager for CDC's Zika virus response, said. "Our top priority is to protect pregnant women from the potentially devastating harm caused by Zika."
This also means to take extra precaution when traveling or spending time outside. It means draining any pool of standing water in backyards so Zika mosquitos won't be able to breed. It means wearing bug repellants resistant to Zika mosquitos and making sure family members are covered. It means thinking twice before booking vacations to tropical places affected by Zika until more information on Zika's spread in the area is released.
The spread of locally-transmitted Zika to different places within the United States might now possibly be a reality. It is important to listen and take note of prevention tips in case Zika spreads to more places throughout Florida and to other states. Hopefully, this will not happen and Zika will be stopped at the source in Florida. However, it is important to take precaution more so now than ever.