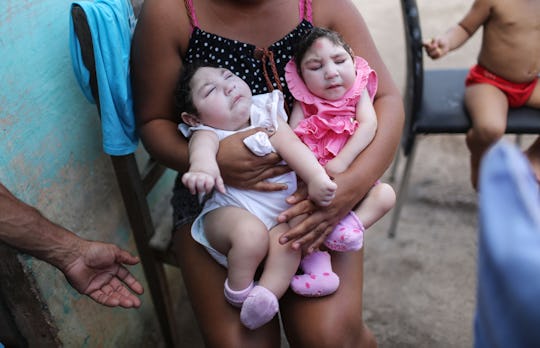 Mario Tama/Getty Images News/Getty Images
Zika Makes Microcephaly Risk 20 Times Higher
New data from the Centers for Disease Control and Prevention (CDC) show that Zika makes the risk of microcephaly 20 times higher when compared to infants born to expectant mothers who were not infected with the virus. Although Zika has already been linked to microcephaly — a rare birth defect where a baby's head is significantly smaller than expected and is often caused by abnormal brain development — these new findings suggest that the correlation is higher than previously thought, especially if the mother is infected during her first trimester.
In an effort to further understand the devastating impact the virus can cause, the CDC compared available data of the prevalence of birth defects from before and after the Zika epidemic rapidly spread to the Americas last year. According to the CDC's most recent issue of the Morbidity and Mortality Weekly Report published on March 3, researchers looked at numbers from the U.S. Zika Pregnancy Registry (which does include Puerto Rico, a region that was hit incredibly hard during the height of the outbreak, as The Atlantic pointed out) and compared it to birth defect surveillance data collected in Massachusetts, North Carolina, and Georgia between 2013 and 2014.
In addition to microcephaly, researchers also analyzed other birth defects including eye abnormalities, neural tube defects, brain malformations, and other central nervous system dysfunctions. The CDC ultimately found that the estimated rate of birth defects among infants born to a mother who was infected with Zika is 58.8 per 1,000 births, which is a "20-fold increase," according to ABC News.
While Zika and its link to microcephaly is incredibly serious and prevalent, the authors of the study noted that that study had limitations as the data only included three states from the entire nation. Still, the number of infants affected by microcephaly in the United States and other surrounding countries continues to rise.
"We knew it was increased but we didn't know how much," Dr. William Schaffner, an infectious disease expert at Vanderbilt University Medical Center, told ABC News. "These studies really nail what that increase is and... it's huge."
With warm weather quickly approaching, public health officials continue to stress the importance of Zika awareness and prevention. The CDC recommends that pregnant women should still avoid traveling to areas known to have Zika and if they must, or live in an affected area, they should be very vigilant about protecting themselves against mosquito bites and speak with their healthcare provider about ways to avoid sexual transmission of Zika.
Zika may not be making headlines as frequently as it did during the height of the outbreak, but the virus is still here. As spring and summer are around the corner, expectant moms should remember to stay alert and do their best to protect themselves to reduce this risk.