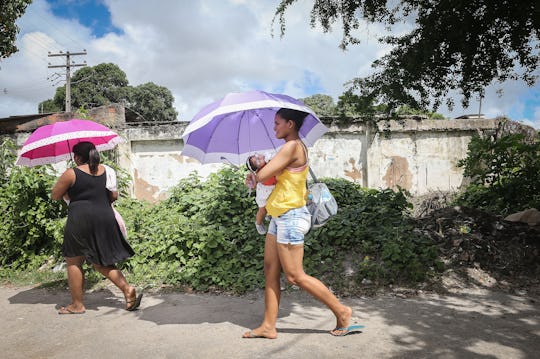 Mario Tama/Getty Images News/Getty Images
Zika Virus Studies That Sum Up Exactly What You Need To Know To Stay Safe
Let's face it: the Zika virus is pretty scary. There's no vaccine, no sure-fire way to ensure you don't get it, and news stories about the lack of government funding to fight Zika, or the recent discovery of local transmission cases in the continental United States, just make it that much scarier — not to mention that much harder to know for sure whether the information you've been receiving is accurate. One thing that is helpful though? There are lots of Zika virus studies out there that help separate myth from fact. What do you really need to know about the Zika virus, and how to keep yourself as safe as possible? The science is pretty clear.
When the Zika virus was first emerging in Brazil, and the potential connection between cases of Zika and the development of severe birth defects like microcephaly hadn't yet been completely established, there wasn't a whole lot of definitive information explaining what it was most people really had to look out for or worry about. But now, we have a lot more information — about how the virus is transmitted, what symptoms it causes, who is most at risk — that means that, while the risk is still there, and certainly that the virus is still a major problem, there are steps everyone can take to assess just how worried they need to be.
Pregnant Women Are Most At-Risk
Since the primary transmission method of the Zika virus is through mosquito bites, pretty much everyone is at risk to get it. But certain factors — like where you live, for example — can increase that risk, and if you are pregnant (or could potentially become pregnant)? Well then you could carry the biggest risk of all. According to the Centers for Disease Control, pregnant women who contract Zika can pass the virus along to their developing fetuses, and that could have devastating effects. It is now established that the Zika virus can lead to a severe form of the birth defect microcephaly, which causes babies to be born with unusually-small heads and underdeveloped brains that lead to a number of developmental complications.
As a result of research findings, the CDC recommends that pregnant women avoid travel to all areas with known cases of Zika, and that they use extra precaution to avoid mosquito bites. According to CBS 12, researchers have found that, unlike similar viruses West Nile and dengue, the placenta actually helps the Zika virus spread, putting the baby at risk:
Placentae usually work as a barrier to pathogens but in the case of Zika, it infects efficiently those placenta variable cells.
Not Everyone With Zika Has Symptoms
According to the CDC, the majority of people who get the Zika virus won't actually show any symptoms — and the ones who do are likely only to present with mild symptoms, like fever, rash, joint pain or conjunctivitis. Other symptoms can include muscle pain or headache — not fun, to be sure — but that means that most people aren't likely to suffer severe effects. A smaller number, however, may develop other complications, like Guillain-Barré syndrome, according to The Lancet, which can cause temporary (or sometimes permanent paralysis). Moral of the story? If you think you could have Zika, see your doctor, stat.
It Can Be Sexually-Transmitted
Scientists now understand that the Zika virus is as much a sexually-transmitted virus as it is one that's spread by mosquitos. In July, the CDC began recommending condoms as a Zika prevention strategy, especially for women who are or may be pregnant, or for anyone who has visited a Zika zone. Studies have shown that the Zika virus can live in bodily fluids such as semen, vaginal fluid, and urine as well as blood, but, according to BBC News, a recent study from Italian researchers has shown that Zika can last in semen for at least six months after symptoms first appear, much longer than previously thought.
A Vaccine Could Be On The Way
According to the National Institute of Allergy and Infectious Diseases (NIAID), scientists are getting closer towards developing a Zika vaccine that can be used to prevent Zika infections. A clinical trial of a vaccine began in the beginning of August, and includes 80 volunteers between the ages of 18 to 35. While it will still take a while before the vaccine will be widely available for use, NIAID Director Dr. Anthony S. Fauci said that the fact that a trial can happen in the first place is a big deal:
A safe and effective vaccine to prevent Zika virus infection and the devastating birth defects it causes is a public health imperative. NIAID worked expeditiously to ready a vaccine candidate, and results in animal testing have been very encouraging. We are pleased that we are now able to proceed with this initial study in people. Although it will take some time before a vaccine against Zika is commercially available, the launch of this study is an important step forward.
Despite the effort to learn as much as possible about the virus, and to use that information to keep people safe, it still appears though that the best personal safety strategy will be the same prevention tools officials have been recommending all along. Anyone concerned about Zika should try to stay away from Zika zones, use bug spray containing DEET and cover up exposed skin as much as possible, and stay indoors in air conditioned building or behind screens when they can. Condom use can help prevent the spread of Zika sexually, and everyone regardless of risk level should help do their part by trying to prevent standing water from collecting, or being mindful of emptying it if it does collect, since mosquitos can breed in even small amounts of standing water.