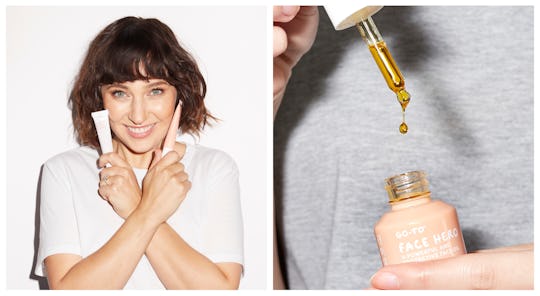 Go-To
Zoë Foster Blake Wanted A No B.S. Skincare Line For Moms, So She Made One
"HOLY SH*T YOU LOOK AMAZING." This is the unofficial slogan of Go-To skin care, the line of goodies for your face that recently took Sephora by storm, and something that, frankly, we could all do to hear and yell at one another once in a while. The creator and life force behind the cruelty-free Go-To range is Zoe Foster Blake, whose other accomplishments include years as a beauty editor at Harper's BAZAAR and Cosmopolitan, eight books, a TV show, and two babies with cheeks of marshmallow.
Zoë Foster Blake is an ebullient Australian who makes swearing sound like a song and is the only person in the somewhat serious skin-care realm who seems to be having a properly baller time of it. (The Go-To cleanser, Properly Clean, promises "soft, clean skin and the faint scent of unicorns and magic.") Importantly, she was an early proponent of four-pane tenso memes involving your own kids (see here). I saw a photo of her then-baby son Sonny in 2014, side-by-side with a pile of Sonny-shaped bread rolls, and have been following her ever since.
This woman gets memez, gets Instagram (on a recent visit to Rome: "Just Roman 'round the streets!!! Sorry, that was Trevible. I'll get my purse and go Rome now. Take it Caesy, guys."), gets beauty, gets life.
At a time when moms feel wedged into the grooves of chronic realness or contoured aspiration, she may just have cracked the formula for something better.
Let's not do a tutorial with 22 steps, let's get to better skin.
Like you, Zoë Foster Blake came of age in the era of teen magazines with makeovers on the inside back cover, in which an awkward plebe would enter the shoot plain-faced and mousy-haired, and finish up with an asymmetrical hairdo and executive's worth of face makeup, the accompanying editorial diagnosing their strengths and weaknesses with zippy candor. ("We brightened Amanda's weak lips with magenta lipstick and liner, and disguised her never-ending forehead with a ginormous fringe," from memory.)
"Jane magazine did the make-under, which I loved so much more," Foster Blake recalls while chatting with Romper over a breakfast of fairy bread (look it up). The idea that your face is a problem to be corrected, or worked over, by a SWAT team of stylists and makeup artists persists into the age of Kontouring and the Kardashians, and is part of what she's setting out to dismantle.
"You see these tutorials where they're covering up their face, and I'm like, 'You've just covering up the issues. Let's not do a tutorial with 22 steps, let's get to better skin.'"
Foster Blake wants to you to feel like you really do look amazing(er).
She wants skin care to be fun (you might find a bonus block of chocolate in your Go-To order), to recall the joy of mixing egg yolks into your hair as a 13-year-old because Seventeen magazine told you to, and balks at the array of esoteric products recommended by beauty editors today: "Don't give me the 10 best! Just give me the one that I need!"
You have babies and you feel like you've aged, you've got your heart on your sleeve, [and] that's when self-care is more important than ever.
She set out to create Go-To as a simple, unf*ckupable routine for women confused by the 12-plus-step regimes reigning in the beauty-blogosphere, or who feel bad about their skin for all the focus on skin care. The products already have a cult following in Australia, and have been hotly awaited by those in the know in the U.S. Far and away the most popular piece of the line is Face Hero, a face oil formulation that will fix basically everything with your mug, according to Foster Blake. It suits all skin types, all ages, all levels of expertise, and, not least, mothers, who often find their way to skin care as a Tour de France cyclist to a SAG wagon on the Col of self-neglect.
"For a year I breastfed both babies, and those early months where you're up through the night, you look and feel horrible when you're doing the best job on Earth!" Foster Blake says. "The pigmentation, the dryness, I feel like I've aged. You have babies and you feel like you've aged, you've got your heart on your sleeve, [and] that's when self-care is more important than ever."
She of course looks like a shiny diamond in person, but the point is well taken. We are not prepared to be ravaged by our roles as parents.
Speaking about the focus on birth while pregnant — "which was such a minor detail in the scheme of things" — Foster Blake recaps the rude surprises that await a new mom in the recovery ward and back at home.
"It seems unfair that you just did this big thing and the first thing you're thrown into is 'Now handle breastfeeding! Now handle no sleep!' And, 'Now look after something you love more than anything on Earth!'
"And all of those things come at you at once at a time when you're tired and have a surfboard between your legs" — I want to set the mood of her dialogue here: jubilant — "It's f*cked, it's f*cking hard, and nothing can prepare you for that!"
All said, she's bullish on the whole parenting thing: "Every day it gets better and easier."
The former advice columnist's approach to sharing parenting moments with her 662,000 Instagram followers is to own up to the difficulties of raising two kids (Sonny, 4, and Rudy, 12-months-old), but only where she has figured the problem out and can offer something proactive. At a time when portraits of motherhood on social media tend toward "CELEBRITY GETS REAL ABOUT [insert admission of despair here]," her approach is more "HOLY SH*T THIS WAS HARD BUT I'VE CRACKED A SOLUTION SO IT'S ALLLLLLLL GOOD, GUYS!" If America's motherhood complex is Eat, Pray, Love, Foster Blake's philosophy is more Brag, Build, Banana.
Her humor — at times reminiscent of that other Insta-great, Chrissy Teigen — is defiantly sunny. I ask her about that very Aussie tendency to slap a joke on it, spin it into something a bit more positive. Myself, I hardly ever crack a "no worries!" now I've been in the U.S. for a decade. My "self-care" is dabbing a creme I forget the purpose of onto my face while frowning at the mirror at my reflection/the world each night and taking it all entirely too seriously. (Person: Bonjour! Me: TERRIBLE, THANK YOU FOR ASKING.)
When a few moms on Instagram started coming out saying, 'It's hard, it's hard, it became irresistible for others to do the same.
It's easy to get very serious about things, especially on social. And especially as a slightly frazzled mom.
"When a few moms on Instagram started coming out saying, 'It's hard, it's hard, it became irresistible for others to do the same, and it's become about what a sh*t-fight [motherhood] is, not for a sense of camaraderie but in the way teenagers say 'I'm so sad.'" Foster Blake says.
Her own posts comprise a conscientiously pun-filled Insta-feed of chubby babies (~co-created~ with Australian radio and TV personality Hamish Blake) and lush vacay snaps.
"People are like, 'Well, you just went to the Bahamas, everything in your life is so perfect,' and no, that's a choice. I want to attract more of [that positivity], and to perpetuate that. And I also have a very lucky life."
It's a way of looking at life she inherited from her mum, who likes to warn, "If you complain to the universe, you'll get more sh*t back."
At the heart of it, these are the words of an optimist. Foster Blake moved on from magazines to writing novels, including one, The Wrong Girl, later adapted into a TV show; a best-selling beauty bible, Amazinger Face; a beloved app, Breakup Boss; and a children's book titled — I am not joking — Nobody Likes A Fart, which — again, true — went on to win the Australian Children's Book of the Year Award in 2018. That project was written on a flight, at a time when she was developing Go-To's line, and in the tempest of early parenthood.
The new-new parent thing was stunning, was breath-taking.
"For me, personally, as someone who is balancing so much professionally, to have two children, it made me take a step back and go, 'Only do the sh*t that is worth it.' Particularly while they're young and still love me," she jokes.
The "sh*t" that seemed most "worth it" was developing her own line of skin care that was good for your skin, free of nasties (parabens et cetera), and ethically produced (the company went to great lengths to source palm oil derivatives that didn't decimate habitat, earning it a rare accreditation from Choose Cruelty-Free Limited). The typical Go-To customer is someone like me, who, given a jade face roller, uses it incorrectly for three weeks before learning that you should gently stroke upwards and outwards, rather than knead your ailing skin like a shortcrust dough. The six-piece base line available in U.S. Sephora stores (there are additional products, like the coveted Transformazing sheet masks, soon to be available on the Go-To website) is designed to keep it simple, with self-explanatory products in tidy peach bottles that all seem to have a sense of humor.
Ya know, like Zoë.
I can attest that the Face Hero is a winner, Properly Clean smelled vaguely of unicorns, and the Exfoliating Swipies were unf*ckupable. It's something I really do feel good about, and it's how Foster Blake feels about life, parenting, the whole she-bang.
"The new-new parent thing was stunning, was breath-taking, because it was so... I could never have imagined it, do you agree?"
We talk briefly about the benefits of sending a sh*tload of good vibes out into the cosmos. "We're all bloody lucky," I nod, taking notes. She echoes me, getting more enthused by the second.
"We are bloody [more swears] Look at us! This is nuts!"