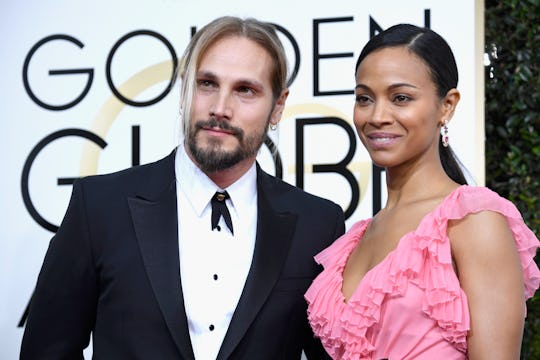 Frazer Harrison/Getty Images Entertainment/Getty Images
Zoe Saldana Kept Zen's Birth Secret For This Reason
Every mother knows it to be true — having a baby is exhausting. Between the sleepless nights and busy days, the first year of motherhood can be particularly draining. Being a mother, especially to more than one young child, can be just as strenuous as going to the gym or running uphill. Actress Zoe Saldana has personal experience with this — in fact, as she recently told E! News, Zoe Saldana kept her baby's birth a secret for "energy preservation" reasons. All things considered, that was probably a wise idea.
Saldana and husband Marco Perego welcomed their third son in early 2017, much to the surprise of her fans. Saldana didn't even announce her second pregnancy at all until after her baby was born — and fans didn't suspect a thing since she hid the whole thing from the public eye, according to Page Six. Instead of a formal announcement, Saldana took to Instagram, where she casually introduced the birth of son Zen using a sweet photo of him with 2-year-old twin brothers Cy and Bowie on their play-mat.
Now Saldana is revealing why she decided to announce her son's birth when she did — and it's important advice for all mothers to consider.
On Monday, Saldana told E! that keeping her pregnancy and her baby's birth a secret was deliberate and incredibly helpful to her:
When you are nesting, I think it's important to maintain some kind of anonymity, just for the sake of energy preservation. When you're a parent, especially when you have a newborn, there's a lot of energy that goes into the first stages of [adding] this newborn person into your lives. You yourself are acclimating to your children. Part of that privacy is because of that.
The moments leading up to and following a baby's birth are a very overwhelming time for a mother. Saldana chose to keep those moments to herself, storing up her energy and channeling it toward her new family addition. The mom of three also chose to keep the whole experience private for her kids' sake, telling E!,
We walk a very balanced line with the kinds of things we like to share publicly of our lives and what we must preserve. It all has to do with respecting the privacy of our family members, because they're too young.
Saldana is completely right. Her advice and honesty about raising young children is sage to mothers everywhere: Keep your private life private when you feel like it, no matter what others might think — after all, you need to take care of your own well-being (and sanity) too.