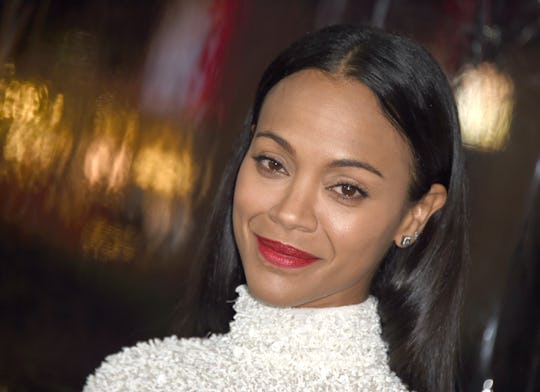 Frazer Harrison/Getty Images Entertainment/Getty Images
Zoe Saldana's Kids Wear Whatever They Want
Zoe Saldana made an appearance at the Victoria Beckham for Target event in Los Angeles on Saturday. The 38-year-old actress has been keeping a relatively low profile the past few months, after welcoming her third son with husband Marco Perego back in February, making their 2-year-old twin boys Cy and Bowie big brothers. So far, it looks like being a mom of three has been quite an adorable ride for the actress as well: Saldana opened up about her family life to People at the event, revealing that her toddlers like to have a say in what they wear. Saldana noted that her kids pick their own clothes from both gendered sections of the store as well — in other words, Saldana and Perego aren't sweating their boys' preference for bright colored clothing and sparkly shoes, and their outlook is honestly refreshing.
Saldana informed People that Cy and Bowie's interest in dressing themselves started with their shoes. "They have different pairs of glittery, bright pink trainers, and those are the shoes that they always choose," the actress said of her sons' sartorial preference for the bright and shiny. "We get them their masculine ones. They don't like those. They want the glitter, the glitter bright pink ones, and we're like, so be it."
Saldana and Perego know their kids prefer an assortment of fun colors on their clothing, so they don't limit themselves when they go shopping. "My husband and I, we don't like to just stick to like the boys' section. And we like putting leggings on our sons, believe it or not," Saldana revealed, saying they also like seeing their kids in bright, happy looking outfits. "Sometimes when we can't find something that we need, we'll go to the girls' section, and we like seeing our kids, our boys, in pastel, bright pink colors, and they like it, as well."
It's great to see two parents embracing their children's preferences, even though they don't align with what's stereotypically associated with their gender. Finding gender-neutral clothing that don't push stereotypes onto children is a frustration many parents face. While Saldana and Perego have decided to simply let their kids pick out and wear what they want to wear, others have started companies to create the type of specific items they're looking for. These smaller, start up companies, such as Jessy & Jack and Princess Awesome, have inspired larger companies like Lands End and Zara to produce more gender-neutral items for kids.
Saldana told People that she believes color is part of the problem. "I guess that it starts very young, as children, we gravitate towards color, and sometimes the boys section can just be very like gray and dark," which her boys just don't seem to like. That's fine with Saldana and Perego. When they can't find the colors their kids like in the boys' section of stores, they simply move on. "We find ourselves always sliding into the girls' section, and we have fun."
Saldana's twins pop up from time to time on her Instagram account happily clad in their bright, fun clothing. Sometimes they even appear hanging out at home in their diapers , playing with their toys or their new baby brother Zen. Most importantly, the two boys seem happy and healthy — and at the end of the day, that's all that really matters.