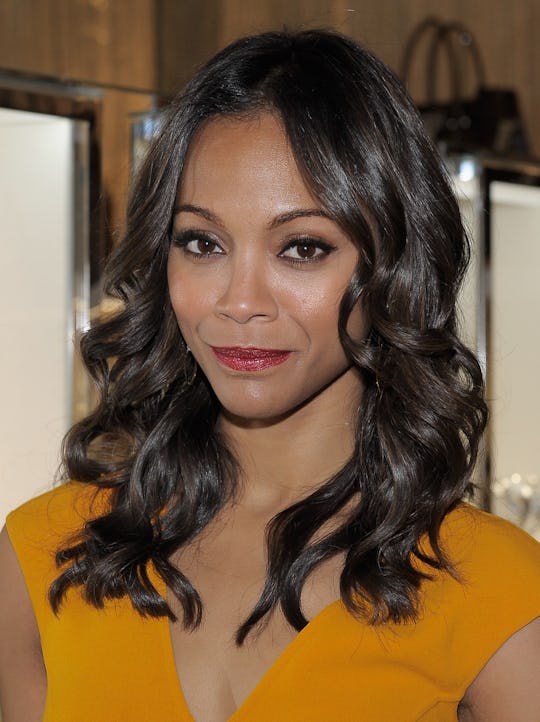 Charley Gallay/Getty Images Entertainment/Getty Images
Zoe Saldana Says Raising Multicultural Children Connected To Their Roots Is "A Necessity"
Sisters Mariel, Cisely, and Zoe Saldana have their own YouTube channel, Cinestar Pictures, on which they publish videos on a variety of topics designed to make viewers "laugh, learn, cry, and much more." For their series Rosé Roundtable, the sisters invite guests to join them as they sit in front of perfectly plated food (never touching it), taking tiny sips of wine and discussing an agreed-upon topic. In the latest episode, "Being American," Zoe Saldana talks about raising multicultural children, and why it's important to keep them in touch with their roots.
In a 2013 interview with Glamour vertical Glam Belleza Latina, Saldana discussed her Dominican and Puerto Rican heritage, and how she was raised by her parents in Queens, New York, for the first 10 years of her life before going to live with grandparents in the Dominican Republic after her father's sudden death. "I feel like I was raised in a very balanced way," Saldana said. As a first-generation American, she said she's compelled to "maintain the beauty of tradition," and fondly recalls her mother teaching her fables and stories from her homeland. And while she doesn't judge her second- and third-generation friends who don't speak Spanish, she encourages parents to teach their children their native tongue.
In "Being American," Saldana recalls when she and her sisters were growing up, they vowed to teach their kids Spanish, but ironically, they'd tell each other, "We're gonna speak Spanish," not "Vamos a hablar español." She realizes now that they were more comfortable speaking English, in part, because in her home, Spanish was primarily reserved for scolding, lecturing, or otherwise serious conversation, a mistake she learned not to repeat with her twin toddlers, Cy and Bowie, who she's raising with her husband, Italian artist Marco Perego.
Saldana tells another anecdote from her youth, in which she reminisces about the 10 doors she'd pass in the hallway of her apartment building every day, and how each family was from a different country, and she could distinctly smell the different spices each neighbor would use to cook their dinners. "You were smelling Bombay – you know what I'm saying? – then you were smelling Pakistan, and then you were smelling Puerto Rico, and then you were smelling Italy." Raising her children with connections to their roots is not only important to her so that they can bond with their grandparents, but "so that they can create some kind of empathy for human beings that do not look like them, and do not sound like them, and do not smell like them." Sounds like those boys are going to turn out very well-rounded.