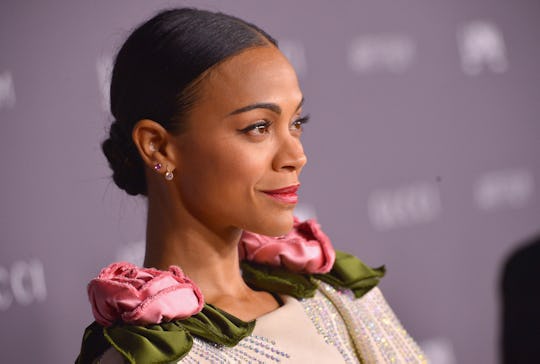 Charley Gallay/Getty Images Entertainment/Getty Images
Zoe Saldana Promises To Raise Her Sons To Be "Exceptional Men" In This Moving Birthday Message
A certain actress and guardian of the galaxy had an extra reason to be thankful this holiday weekend as her twins celebrated their third birthdays. Not only that, but in a sweet birthday message to her boys, Zoë Saldana said she'll make sure her sons grow up to be "exceptional men." Saldana is already a total force to be reckoned with, and her vowing to make the world a better place with her own little ones is so needed right now.
And Saldana certainly seems up to the task. On Monday, the 39-year-old shared some photos and videos of her family's celebration for her twins, 3-year-olds Cy Aridio and Bowie Ezio. Along with several videos on her Instagram story, Saldana also took the time to write out a very thoughtful caption along with a photo of the twins eating apples.
"Happy birthday Bowie and Cy," Saldana began, going on to reveal details about the little boys' birth, personalities, and more. And while her entire dedication to her little sweeties is certainly beautiful, there was one remark that definitely made an impact, and it seems as though Saldana might have wanted it to. She wrote:
You are both meant for greatness and by the grace of God your father and I will make sure you grow up to be exceptional men that will bring healing, wisdom, happiness, and change into this world.
On Monday, Saldana seemed to have an exciting time celebrating with her family, with all three of her kids playing together with mom and dad. And in her birthday message to her twins, Saldana emphasized how much they changed her and Perego's life.
"Even though your arrival was early and with a couple of scary hiccups you have been the light of our lives ever since we learned of your presence within us," she wrote.
Saldana is likely learning a lot about raising young men, as the mom to three little boys — twins Cy and Bowie, as well as 9-month-old Zen — all of whom she shares with husband Marco Perego. And her message to her twins, though, has likely struck a chord with many in the United States as the wave of sexual assault accusations continues to churn.
Saldana's message to her sons really does seem to emphasize the importance of boys being raised right, explaining:
We have a big task ahead us, and that is to raise healthy, empathetic and selfless men. We hope to never let you down. And please continue to teach us how you need to be loved, seen, spoken to, taught, encouraged, protected- all the things you need to thrive and make your life meaningful.
Indeed, raising "healthy, empathetic and selfless" men is no easy feat, but it's incredibly important. As Salon reported in October, toxic masculinity is still shockingly prevalent in the United States, and can be actively combated by teaching boys to choose "to diminish rape culture."
In February, Saldana told The Daily Telegraph that raising boys was something she was actually really looking forward to. "It's funny — people tell me this all the time, 'You have a house full of boys.' I'm excited, I'm curious, I'm nervous, but I'm accepting this challenge," she told the publication. "I come from a family of women, of matriarchs, and we've survived many things. We've learnt. We've overcome. We've achieved."
Saldana seems perfectly capable of raising her boys to be a "light" to the world and they're lucky to have a mom like her to lead the way.
Check out Romper's new video series, Romper's Doula Diaries:
Watch full episodes of Romper's Doula Diaries on Facebook Watch.