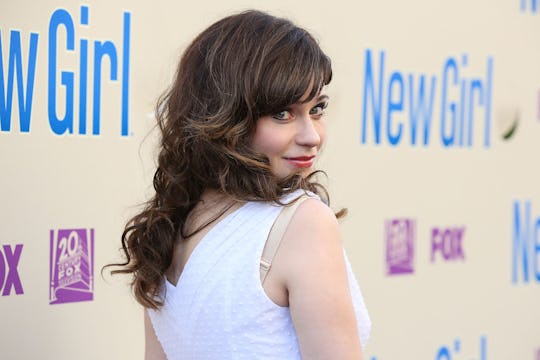 Imeh Akpanudosen/Getty Images Entertainment/Getty Images
Zooey Deschanel Quotes On Parenting Her Daughter Elsie Are Too Hilarious
New Girl star Zooey Deschanel is always ready to gush about her daughter, Elsie. The 14-month-old, named Elsie Otter, sounds just as adorable as her mom. When she visited The Ellen DeGeneres Show on Monday, it was clear that Zooey Deschanel is never short on parenting anecdotes about her daughter.
Elsie Otter Pechenik was born last summer to Deschanel and her husband Jacob Pechenik. The couple married in a secret ceremony shortly before Elsie's birth. Pechenik had proposed to Deschanel at the New Girl set on her birthday. Pechenik is a producer with credits including The Skeleton Twins, with Bill Hader and Kristin Wiig, and Song One with Anne Hathaway. He met Deschanel on the set of one of his most recent films, Rock The Kasbah.
Elsie is the couple's first child, and, as Deschanel told DeGeneres the last time she was on her show, her full name was inspired by their love of animals, according to E! Online. Specifically, the couple's love of otters:
They're really sweet, they're also smart, they use tools to keep their favorite tools, they hold hands while they sleep. There's so many amazing things about otters. They're wonderful animals.
Deschanel always has stories about her daughter to share, including Elsie's hilarious first words. Deschanel told Jimmy Kimmel when she visited his show back in August that Pechenik taught Elsie a very important word:
My husband taught her how to say cheese just 'cause she likes cheese so much," This morning, I went in and it's still dark in her room and she's wearing her little jammies and her sleep sack, and she goes, 'more…cheese!' I'm like, 'You didn't even have any cheese and you want more?'
Deschanel also shared one of her first "parenting fails," admitting that she tried to make a cake for Elsie' first birthday and it didn't exactly go as planned:
I made her a little heart-shaped cake that didn't have sugar. I put just mashed banana in it. "She's so little. You know, there's a lot of sugar in cake. And then I whipped up some coconut cream and I put it on top. It looked like a cupcake. So we're like, 'All right, here's your cake! Happy birthday!,' and she goes:
Elsie also loves hats, Deschanel told Ellen DeGeneres when she was on The Ellen DeGeneres Show on Monday. Elsie had an adorable interaction with her grandmother over the accessory, according to PEOPLE:
She's really obsessed with hats right now. My mom wears hats a lot and we had dinner with her and as soon as my mom came up, Elsie said 'Hat! Hat!' She wasn't wearing one, and my mom's like, 'Oh, yeah, I wear hats!' And then someone came into the restaurant wearing a hat and she was like, 'Hat! Haaat!' Like, pointing across the restaurant.
Deschanel also shared her thoughts on flying with a baby, which are probably familiar and totally relatable to any parent:
Traveling is really hard. She's great on the plane, but they stopped letting people go first with babies, and there's so much stuff. I was really excited about this privilege — that you get to get on first if you have a baby.
She mentioned that not all airlines took the privilege away, but the one she was using did. DeGeneres pushed her to name the airline, saying, "We're gonna shame them right now. Mothers and babies should go on first." (Deschanel didn't quite commit to the public shaming, only saying the airline's name rhymed with "Bamerican")
Deschanel is currently in the sixth season of New Girl on Fox.