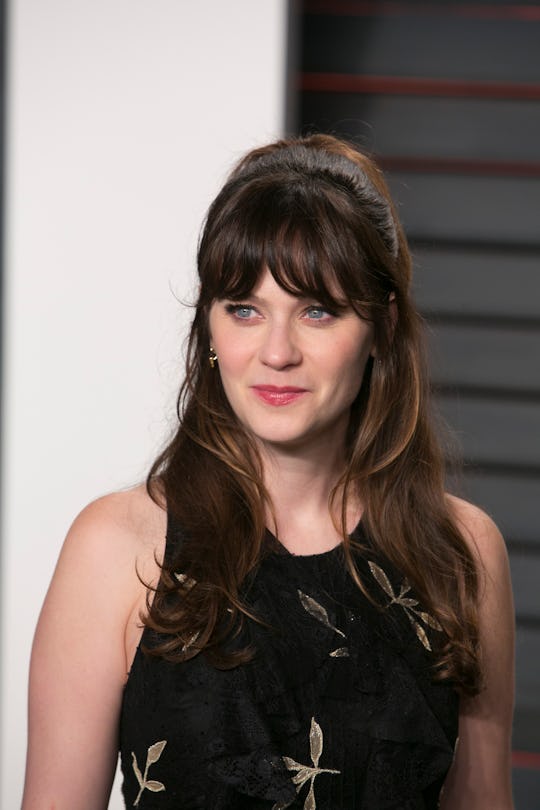 ADRIAN SANCHEZ-GONZALEZ/AFP/Getty Images
Zooey Deschanel Slams Postpartum Body Shaming & Deserves A High Five
When it comes to getting her bikini bod back in shape after having a baby, Zooey Deschanel isn't feeling a lot of pressure. In fact, the quirky pixie princess just gave a new interview to Redbook where she shares her down-to-earth outlook on being a mom, and it will give her fans reason to fall in love with her all over again. In fact, Zooey Deschanel said the post-baby body pressure for new moms is "odd."
Preach.
Her daughter, Elsie Otter, seems to have given Deschanel a decidedly practical outlook, which is surprising for a girl known for her quirkiness. The actress said she's not feeling a ton of pressure to look like she did before Elsie was born.
"To expect someone to look like her pre-baby self immediately is odd," she told Redbook for this month's cover story. "Because you just grew a human and then birthed that human — there's a lot that needs to go back to where it was. All your organs move around, for chrissakes!"
What a lovely and refreshing thing to hear from one of Hollywood's leading ladies. Considering how much tabloid property is dedicated to analyzing every bump and stretch mark on new moms, it's awesome to see a little push back on all the ridiculous pressure. Forget about feedings and being up all night! Have you been keeping up with your pilates? So lame.
And this body-positive approach isn't anything new for Deschanel. Last May, before Elsie was born, the pregnant star explained she didn't feel a lot of pressure to look like her pre-baby self immediately after giving birth and that fans shouldn't expect a glossy "post-baby bod" photo shoot.
"Haven't we all seen those pictures of a sexy new mom in a bikini after one month?" she said when she spoke with Cosmopolitan last May. "I will not be that person. I've always gone my own course and never been someone who has the need to be super skinny. I like a healthy look. I don't buy into that skinny-is-better mentality."
But sadly, her outspoken criticism of new mom body shaming did little to stop the tabloids from keeping vigilant watch on her post-baby waistline. In August, Deschanel, her husband, Jacob Pechenik and new daughter were caught by paparazzi on a run to the drug store in their hometown of Austin. The headline over the intimate family snaps published by the UK's Daily Mail read, "Zooey Deschanel reveals trim post-baby body on first outing with little daughter and husband Jacon Pechenik." The body shaming and measuring had already begun.
So while you've got to applaud women like Deschanel being willing to call out the ridiculous stalking and judging of new moms, it doesn't look like the pressure is going to let up anytime soon. But it's the efforts of high-profile women like her that will eventually change attitudes and our collective obsession with measuring and judging women's bodies for entertainment. We can hope, anyway.