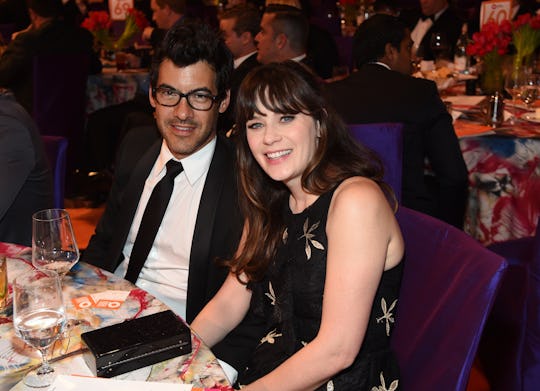 Jamie McCarthy/Getty Images Entertainment/Getty Images
Zooey Deschanel Welcomes A Baby Boy
And baby makes four! On Tuesday, New Girl star Zooey Deschanel's rep confirmed that Deschanel welcomed a baby boy last week, and his name is just as adorable as you'd expect. Deschanel and her husband Jacob Pechenik named their second child Charlie Wolf Pechenik, which is way too cute — and follows in the footsteps of their first child's animal-as-a-second-name trend. Deschanel and Pechenik are already parents to 1-year-old Elsie Otter, who is just a few months shy of her second birthday.
"Zooey, Jacob and their daughter Elsie are overjoyed to welcome the newest member of their family," Deschanel's rep told People on Tuesday. The baby was reportedly born in Los Angeles, where the family owns a home.
News of Deschanel's second pregnancy only emerged in late January, because Deschanel likes to be sneaky that way (and by that, I mean she's got very reasonable boundaries when it comes to managing her privacy and her public life). In August 2015, Deschanel's rep stunned the world by confirming both Elsie's birth and the actress' secret marriage to Pechenik, according to Us Weekly.
When Elsie was about 7 months old, Deschanel went on The Ellen Degeneres Show and explained how she and Pechenik had chosen their daughter's name. "We thought Elsie is like, kind of a classic name," Deschanel said, according to Elle. "A lot of people have grandmas and aunts name Elsie…. And then we were like, you know, the middle name can be a little bit wild."
It sounds like Deschanel and Pechenik chose to follow their classic first name and wild middle name combination when Charlie Wolf was born, too. "You know, I love animals so much," Deschanel told Ellen Degeneres during that 2016 interview. "And we love otters because they're so cute, and playful and fun. And they're really smart."
No pictures have been released of the newest addition to their little family, and I wouldn't hold my breath for any. Deschanel and Pechenik have kept life with Elsie under wraps, and chances are their family will remain just as private now. However, Deschanel has spoken freely about how much she's enjoyed motherhood, and shared stories about terrible sugar-free birthday cake experiments, first words, and Elsie's love of hats.
"She's the best. She's so much fun," Deschanel told Jimmy Kimmel last year about Elsie. She continued:
My husband taught her how to say cheese just because she likes cheese so much. This morning, I went in and it's still dark in her room and she's wearing her little jammies… and she goes, "More...cheese!"
Here's to hoping we get to hear a few stories about Charlie soon, too. Congratulations to the happy family!