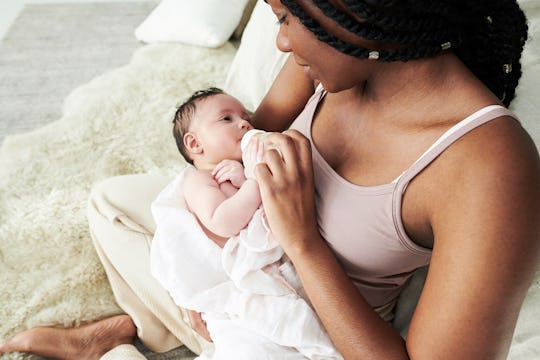 5 Misconceptions About Baby Feeding That Need To Be Debunked
We all have our expectations about what parenthood will entail. Most of us probably don't even realize it, it's so ingrained in us. But when kids come into our lives and do what they do best — go off script — it can feel unexpectedly emotional. It can even feel like you're failing at something you thought was going to be easy, or at the very least, natural.
Some of my biggest surprises about becoming a parent centered around food, starting with what it would look like to feed a newborn. But when it came time to start solids — and feed my child three meals a day plus snacks — the surprises didn't end. I can't count the number of times I wished I had a manual telling me what to expect, or an expert resource like ByHeart to help me through my many frantic feeding questions.
If you haven't heard of it, ByHeart is a parent-founded company that just launched Cluster, a feeding support destination that lets parents connect with one another — and with experts — in real time. They're also launching a cutting edge farm-to-(infant)formula product this fall, so look out for that! To add to the growing conversation about what works best for you and your baby, Romper teamed up with ByHeart to debunk the biggest misconceptions about feeding. Keep reading and take a deep breath — you've got this.