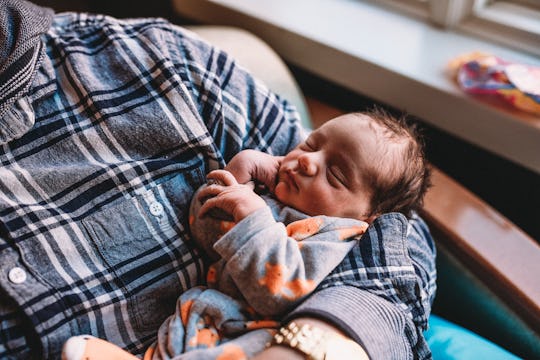 Jill Lehmann Photography/Getty
How To Keep Your Baby Warm If The Heat Goes Out
Whether you live in an area where you're used to tundra-like temperatures or you reside in a more tropical climate where a drop in degrees is a big deal, keeping your baby warm and comfortable when the heat goes out is a top priority for any parent. Aside from the regular challenges of winter weather with a wee one, getting blindsided by a worst case scenario situation is never fun. (Basically, the saying, "hope for the best and prepare for the worst," should be the mantra for parents everywhere.)
Perhaps the most difficult aspect of making sure your little one is nice and cozy, despite frigid temperatures, is that a baby has far more health and safety concerns than an older child does. For instance, you can pile on the blankets and pillows for your grade-school kiddo, but that would be a definite breathing hazard for an infant.
It's also important to note that the signs your baby is too cold can include seeing mottling of their extremities, says Dr. Gina Posner, a board-certified pediatrician at MemorialCare Orange Coast Medical Center in Fountain Valley, California. If their hands and feet are cold to the touch, and if the back of their neck is cold, those are a few other things to check out on your baby if the heater goes out.
Other signs include if they're overly fussier than usual or if they're still and quiet — and even if they start sneezing, a Romper article reported. As Dr. Daniel Ganjian told Romper, "When your baby starts sneezing, usually it is a sign they are cold. This is due to a response connected to the hypothalamus, a part of the brain which controls temperature in the body. That is why babies usually sneeze when they are being changed."
Additionally, if their skin is paler than normal, and it's accompanied by inactivity and lethargy, your baby could be developing hypothermia. If this happens, Posner says to slowly warm them up by swaddling them in blankets or doing skin to skin immediately.
Otherwise check out these surprisingly simple (and safe) ways to keep your baby warm when the heat goes out.
Experts:
Dr. Gina Posner, pediatrician, at MemorialCare Orange Coast Medical Center in Fountain Valley, California
Dr. Daniel Ganjian, pediatrician at Providence Saint John's Health Center in Santa Monica, California