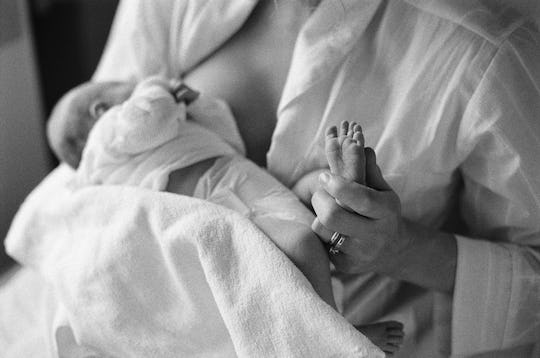 Owen Franken / Getty Images
7 Reasons Why Your Breastfed Baby May Be Farting A Lot
Passing gas is often a cause for a few snickers, but what if it's your baby? They can be pretty alarming (and stinky) especially considering the small body they're coming from. How does a human that small produce a gas plume that big? And is it just formula-fed babies who fart a lot, or breastfeeding babies, too? Turns out, there are some specific reasons breastfed babies fart a lot. And, thankfully, most of them aren't serious cause for concern.
To be fair to your baby, some amount of gas production is absolutely expected. "All babies will produce gas; in fact, humans (including babies) produce gas an average of 14 to 23 times a day," as Dr. Florencia Segura, MD, FAAP, a board-certified Pediatrician at Einstein Pediatrics, tells Romper. This goes for all babies, regardless of how they are fed. "There is not a clear distinction in gas production between breast-fed and formula-fed infants; babies in both groups can produce lots of gas, or very little," as Dr. Tiffany Jumaily, a pediatrician at Integrative Pediatrics and Medicine in Studio City, California tells Romper.
It is true that letting some wind go is par for the course when you're a human being, but many moms on online internet forums and social media threads report that their breastfed babies seem to really be letting it rip. Many, and understandably, wonder if it's something they're eating, something in all breast milk, something about the position they're feeding the baby, or something related to the baby's mouth. Turns out, it could be any one of those things.
So, with that in mind, here are seven reasons your breastfed baby may be cutting a lot of cheese.