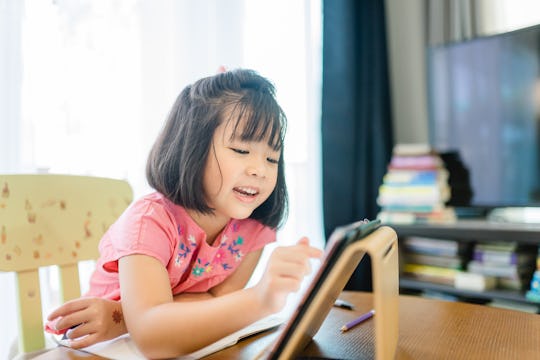 Shutterstock
A Parent's Guide To Safely Picking Your Child's Next Smart Toy
An abbreviated list of the most in demand smart-toys, along with tips and information about what to look out for and what to avoid.
With so many factors to worry about when holiday shopping for your family, the last thing you might think to consider would be the safety and privacy of your child. Yet with the proliferation of smart toys and gaming consoles that come with an array of accompanying apps or the ability to connect to the internet or your in-home smart assistant devices, this worry is more than warranted. While certain toys may appear cute and informative, a large portion of these products can actually spy on your children, track their internet habits, or even monitor your whole family without your expressed consent.
And while this may sound frightening – which it truly is – it also should not stop you from investing in certain smart devices. While some smart technology-enabled products may harvest your data, others are less sinister and might help to give your child a legup in school or elsewhere.
Recently, the internet privacy-focused Mozilla unveiled their *Privacy Not Included homepage, your one stop shop for separating the cute from the creepy when it comes to smart-toys and tools. For all those parents who may be lacking when it comes to consumer tech savvy, Romper recently partnered with Mozilla to compile an abbreviated list of the most in demand smart-products along with tips and information about what to look out for — and more importantly what to avoid — to help you make smarter decisions when shopping this busy holiday season.
Tablets And Wearables
When shopping for kid-friendly tablets, look out for the product's data selling policy. While some products might add you to mailing lists you never signed up for, others might be tracking your child's viewing and activity preferences and amassing data about their browsing in the process. See if there are ways of opting out of data collecting or make sure the privacy policy is something that you're comfortable with before adding it to your shopping list. Same goes for fitness-tracking wearables, which can log your child's movement and sleep activity.
Coding Kits
For kids interested in STEM, coding kits — many of which coming in robot form — make wonderful gifts. Yet, while some of these products are made by companies with strong privacy and security measures that should make you feel comfortable, others don't come with privacy policies at all, meaning you're in the dark about its security and leaving it up to chance. Do your research before investing in a robot or kit by either checking to see if the product is mentioned on Mozilla's *Privacy Not Included homepage or by taking a look at any privacy policy they may have available. Do your own digging into the company's overall values if nothing is readily available.
Drones
We get it, kids love drones. Who doesn't? UAVs help your kids study faraway places or live out fantasies of flight from the comfort of solid ground. And yet, security levels for drones are varying to say the least. In general, drones are really pricey products, so you'll want to make sure you're taking a look at which ones are keeping your child's information secure. If a deal feels too good to be true, it just might be, as certain drone products fail to meet US Military security standards.
Video Games And Consoles
In general, many newer handheld video game consoles actually have pretty good parental controls, and their proprietary games have comprehensive privacy policies. Popular plastic brick model sets that come with augmented reality apps work even without the internet, so once it's downloaded, you're no longer connecting to anything outside the home, meaning no unwanted information is being shared.
RC Cars
Toy cars with Bluetooth tech are usually pretty secure when you use them in your home, whether they enable you to build-your-own-race car toys or have smart tech-enabled race tracks. Certain companies will even delete your child's information attached to a login if they're under 13. Again, it pays to research the company before you plan your purchase, as some of these models can be expensive.
Need More Info?
While this list is a great start, it is not nearly as exhaustive as the list on Mozilla's *Privacy Not Included homepage, a parent and gift-buyers best ally in helping to determine the security and privacy of each of the hottest smart items, gift by gift.
A leader in secure web browsing, Mozilla uses their technical chops to assess each product against its own set of Minimum Security Standards which includes the use of encryption and automatic security updates, a strong passwords requirement, a system to manage vulnerabilities, and an accessible privacy policy. With their Privacy Not Included stamp, Mozilla clearly denotes which products do not meet all of their requirements, helping consumers to know which products are benign versus which to avoid at all costs. Alongside Mozilla's own recommendations regarding each product, users can vote on the Creep-o-Meter, giving you a consumer opinion consensus about where a toy or game ranks from Not Creepy to Super Creepy. Happy gift-giving!
This post is sponsored by Mozilla.