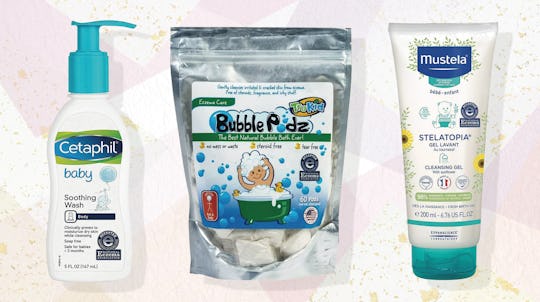 Romper/Amazon
The Best Baby Soaps For Eczema
We only recommend products we love and that we think you will, too. We may receive a portion of sales from products purchased from this article, which was written by our Commerce team.
Dealing with baby eczema can be tough, which is why it's always important to speak with an expert about how best to treat your baby's extra-delicate skin. So when it came to narrowing down the best baby soaps for eczema, I got in touch with pediatric dermatologist Dr. Karan Lal, D.O., member of the Society for Pediatric Dermatology, who suggests sticking with products that are free of potentially irritating ingredients like "fragrance, fragrance mix, geraniol, cinnamaldehyde, hydroxycitronellal, cinnamyl alcohol, a-Amylcinnamaldehyde, isoeugenol, eugenol, and oakmoss." The five gentle, fragrance-free baby washes featured below fit the bill. Additionally, these washes have all received the seal of approval from the National Eczema Association (NEA), a nonprofit organization that supports people of all ages with eczema.
To soothe eczema-prone skin, Dr. Lal suggests the "soak and smear" method, which starts with giving your baby a daily bath, because he recommends keeping your baby's skin moisturized with ointments and creams, and you don't want all that product to accumulate over time. "The only areas that require soap are [the] armpits, groin, and feet," Dr. Lal says. "The rest of the body can be cleansed with just water." After the bath, while your baby's skin is still wet, apply an unscented, petrolatum-based ointment to lock in moisture, then "pat dry so there is no sticky feeling, which can happen when you apply ointment to dry skin."
With those key tips from Dr. Lal in mind, scroll on to shop five of the best baby washes for eczema.
1. The Overall Best Baby Soap For Eczema
Made with nourishing ingredients like filaggrin, shea butter, sunflower seed oil, colloidal oatmeal, and glycerin, and made without harsh soaps or parabens, this creamy body wash from Cetaphil won't strip any moisture from your baby's ultra-delicate skin. Like all of the products on this list, it's fragrance-free and boasts the Seal Of Acceptance from the National Eczema Association. For just under $10, you get 5 ounces of product housed in a handy, pump-top bottle.
2. Runner Up
This cleansing gel from Mustela is part of the brand's Stelatopia collection, which was created exclusively for eczema-prone skin. This fragrance-free gel, which also features the NEA Seal Of Acceptance, is safe for use on all ages, including newborns. Like the Cetaphil cleanser, it's made with shea butter, sunflower oil, and glycerin, but instead of filaggrin, the hero ingredient in here is avocado perseose. The formula is tear-free, alcohol-free, and paraben-free, but unlike the Cetaphil cleanser, this is a gel, so it's not as creamy. It'll set you back a few more dollars, but you do get nearly 2 more ounces of product.
3. The Best Oatmeal Soak
Dr. Lal says that oatmeal is an extremely soothing ingredient, and tells parents to make their own oatmeal bath by soaking their baby for 5 to 10 minutes in lukewarm water mixed with steel-cut oats. "I call it making baby oatmeal," he jokes. An easier and less messy option is Aveeno's Baby Eczema Therapy Soothing Bath Treatment, which comes with five, individual packets of colloidal oatmeal-based powder. The formula is soap-free, fragrance-free, and tear-free, and yes, it also has the NEA Seal of Acceptance.
4. The Best Travel Set
This collection of travel-sized products from Evereden comes with a fragrance-free shampoo and body wash, as well as two moisturizing lotions — one that's fragrance-free and another that has a mild jasmine scent. The baby shampoo/body wash and unscented lotion both have NEA seals, and are made with nourishing ingredients like colloidal oatmeal, calendula, kakadu plum, and several plant-derived oils. Meanwhile, you can keep the lovely jasmine lotion for yourself.
5. The Best Bubble Bath
This packet of TruKid Eczema Bubble Podz is admittedly a lot more expensive than most typical bubble baths, but unlike most bubble baths, these pods are fragrance-free and made with colloidal oatmeal and allantoin to soothe and nourish dry skin. Plus, your purchase gets you 60 sudsy pods that make it easier to convince reluctant toddlers and older kids to get into the bath every day.
Expert:
Dr. Karan Lal, D.O., member of the Society for Pediatric Dermatology and a dermatologist at UMass Memorial Medical Center