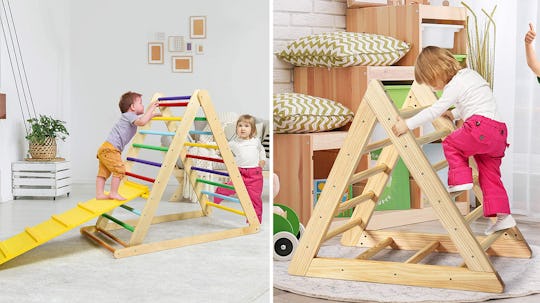 Amazon
The 7 Best Pikler Triangles
Give your little one a (safe) way to climb at home.
We may receive a portion of sales if you purchase a product through a link in this article.
Little climbers will love having one of the best Pikler triangles at home. They can provide hours of entertainment, help burn off extra energy, and even aid your child's development by letting them practice their gross motor skills. To choose the best one for your tot, consider whether your child will find a basic climbing triangle more appealing or one that comes with add-on pieces like a ramp or ladder. Keep in mind that the more elements the set comes with, the more space it'll take up.
What To Look For When Shopping For The Best Pikler Triangles
Height: The best climbing triangles are made from smooth, sanded wood, and feature climbing rungs that your child will love to go up and down on. Ideally, it should be adjustable in height to grow with your little one — taller picks will be more challenging to climb, while shorter options are better for beginners.
Size & Product Weight: Climbing triangles and accompanying pieces can be quite large, so you'll definitely want to pay attention to the dimensions to ensure you have enough space. Weights are included as well; some run on the heavy side and will be more difficult to move around your home but can be more stable.
Recommended Age & Weight: Pay attention to the manufacturer's listed age and weight recommendations to find the right climbing triangle for your family, keeping in mind how long your child will be able to use the product.
Extra Pieces: Many climbing triangles come in sets with add-on pieces. There are ramps (which are usually dual-sided with climbing pieces on the reverse), arched climbers, nets, and more. These sets can often be utilized in a variety of configurations for an extra challenge.
Folding: One option for smaller spaces is climbing triangles that fold down for compact storage (check the specs below each product in this list for this feature).
Shop The Best Pikler Triangles
In a hurry? Here are the top picks for the best Pikler triangles:
Ready to level up your indoor play space? Check out these seven reviewer-beloved climbing triangles.
1. A Wooden Climbing Triangle For Less Than $50
At less than $50, this climbing triangle is without a doubt the best deal you'll find in this product category. It doesn't skimp on quality either: It's made from sturdy beech wood with rounded corners to keep your kiddos safe as they play. The triangle is adjustable in height — ranging anywhere from 22.4 to 39.2 inches tall (the length varies based on how high you make it) — and features a 24.4-inch width. The entire product conveniently folds down for compact storage.
Assembly: "It was very easy to assemble, only taking about 15 minutes," wrote one reviewer.
One Reviewer Wrote: "The wood is smooth and free of splinters. The bottom of the legs are rounded to accommodate the multiple angles that this triangle can be placed into. I love that the Angles can be adjusted for different age groups and abilities. [...] In addition to the multiple angles, I am very pleased that this folds up flat for storage."
Pieces: Climbing triangle | Weight Capacity: 200 pounds | Recommended Ages: 1 to 6 | Weighs: 14 pounds | Folds: Yes
2. A Climbing Triangle That Can Be Set Up In 10 Different Ways
This climbing triangle will grow with your child; it can be arranged into 10 unique configurations — from a basic square or a low triangle climber for younger kids to a taller, more challenging climber for kids up to age 8. It's large enough that up to three children can play on it at once. The set comes with the main climbing triangle, as well as a ramp with a colorful stone climbing wall on one side (with guardrails for added safety) and a smooth reverse to use as a slide. When playtime is complete, the climbing structure folds down for storage, though just the 47-inch long ramp does not.
Assembly: "The product is very good, and the assembly is not very complicated. I installed it in only half an hour," explained one commenter.
One Reviewer Wrote: "Climber was very easy to unbox and all of the pieces are very well made! Climber is very sturdy and we have reconfigured it to different setups already without problems. The pegs are a bit tricky to get together, but once locked into place, feels very secure! Our 3 year old loves it and our 1 year old is learning to enjoy it already with help. Definitely recommend!"
Pieces: Climbing triangle, ramp | Weight Capacity: 150 | Recommended Ages: 3 to 8 | Weighs: 59 pounds | Folds: Yes (triangle)
3. A Foldable 3-Piece Set For Less Than $250
This climber set is a stellar deal that comes with three wooden pieces for less than $250. The climbing triangle boasts an adjustable height (with a maximum height of 32 inches and a width of 31.5 inches) to accommodate climbers of different sizes. And the ramp (which is 38.8 inches long and 14.7 inches wide) has a flat sliding surface on one side and climbing rocks on the other. The arched climber is just 18.5 inches tall. Up to three kiddos can play on this pick at once and several setups are possible. Reviewers love this pick and it has a 4.5-star overall rating after over 500 reviews.
Assembly: "I am shocked at how easy this was to assemble! Not only do they give you all the screws plus some - they send a screw driver + gloves" explains a reviewer.
One Reviewer Wrote: "Our one and three-year-old daughters love this gym and so do we! It was easy to put together, the wood is soft and doesn't have any sharp edges. There are lots of easy configurations, some of which our three-year old has started experimenting with on her own, and make its fun for them to spend almost an hour at a time climbing and sliding."
Pieces: Climbing triangle, ramp, arch | Weight Capacity: 130 pounds (each piece) | Recommended Ages: 3+ | Weighs: 30.4 pounds | Folds: Yes (triangle)
4. A Climbing Triangle With 3 Difficulty Levels
This climbing triangle that has a 4.7-star overall rating is unique in that each of the three sides includes a different number of climbing bars (there are either three, five, or six bars) for various skill levels — fewer bars equals a more difficult climb. The product is made of solid pine wood that's smooth with rounded edges for safety. It stands 32 inches tall, 18 inches wide, and 36.5 inches long, but it doesn't fold down for storage — you'll want to be sure you have the room for it.
Assembly: "The assembly was definitely manageable; having a cordless drill was helpful for assembly," commented one fan on Amazon.
One Reviewer Wrote: "I have been looking for this type of triangle climber for a while in order to [strengthen] my LO's gross motor skill. I was glad that I encountered this one. This triangle allowed the flexibility of different number of rings that my LO wanted to climb. Also, these rings were pretty sturdy once they assembled properly. The assembly was definitely manageable; having a cordless drill was helpful for assembly. Plus, natural wood color was really bright and elegant."
Pieces: Climbing triangle | Weight Capacity: 135 pounds | Recommended Ages: 3+ | Weighs: 19 pounds | Folds: No
5. A Climbing Triangle Set For Tots As Young As 6 Months
With a recommended age range from 6 months to 6 years, this climbing triangle with a 4.6-star overall rating will be enjoyed for years to come. Included are a climbing triangle with colorful, vibrant rungs (it's 28 inches wide and has an adjustable height of up to 43.5 inches max) and a ramp that's smooth on one side and features climbing pieces on the reverse. The ramp can be placed on different rungs on the triangle to adjust the steepness based on what your kiddo prefers. Rounded corners and smooth, polished edges ensure your child's safety.
If you aren't a fan of this colorful climbing triangle, a natural wood version is also available for purchase as well as an option with a tent.
Assembly: "Took about 30 minutes to put together. Zero issues with the screws," explained one reviewer.
One Reviewer Wrote: "Best toy for active toddlers [...] My 3 year old loves this climber. It fits perfect in his bedroom and I love how easy it folds up. It was pretty simple to put together and the design is sturdy. It's also really light so it's easy to move to and from rooms."
Pieces: Climbing triangle, ramp | Weight Capacity: 132 pounds | Recommended Ages: 6 months to 6 years | Weighs: 36 pounds | Folds: Yes (triangle)
6. A 2-Piece Climbing Triangle & Ramp Set Featuring 4 Activities
The versatility of this climbing triangle set is tough to beat — the colorful triangle sports a different activity on each of the three sides (including a ladder, climbing board, and net), plus a ramp for more entertainment. All of the pieces in the set are made from a combination of birch and beech wood with rounded corners and a sanded finish. The triangle stands just 22.6 inches tall (and it's 25.3 inches wide), making it an ideal choice for younger or shorter kids, or those that are a bit timid about climbing. Other sets and climbing products are also available within the listing.
Assembly: "Simple steps to setup, just need to screw them on," remarked one Amazon commenter. Another suggested, "If you have a drill then it will be much easier to assemble."
One Reviewer Wrote: "Nice indoor activity for toddlers especially during winter time [...] I brought for my grand kids, 1-4 yrs old. They played every day and loved it. Simple steps to setup, just need to screw them on."
Pieces: Climbing triangle, ramp | Weight Capacity: 132 pounds | Recommended Ages: 1+ | Weighs: Not listed | Folds: No
7. A 4-Piece Set With A Climbing Triangle, Arch, Net & Ramp
Got a decent amount of available space? This oak climbing set comes with four pieces (including a climbing triangle, arch, net, and ramp) that can be configured in a multitude of ways for plenty of enjoyment. Another perk is that each piece ends up costing less than $75, which makes this a great value overall.
The climbing triangle has five different locking positions for various heights (with a max height of 41 inches), and the 41-inch ramp features a smooth side for sliding and climbing pieces on the reverse. The climbing net is 41 inches long and 18.5 inches wide, while the arch is 22 inches tall, 41 inches long, and 21 inches wide. Choose from either light or dark wood options in the listing.
Assembly: "Much better quality than I was expecting, easy to assemble, and very stable/sturdy," explains one Amazon fan.
One Reviewer Wrote: "First of all, the idea of being able to get so many thing for such an affordable price had me hesitate. Please don't. Just buy it. You WILL NOT REGRET IT! I have a 1 year old and a 4 year old (who is as tall as a 7 year old). This product was easy to assemble, quality wood material, seems very durable. Instructions took a minute to understand but once we got going it was so easy. The fact that it folds up is awesome so you can move it easily and store as needed. Very satisfied customer here. Would buy again in a heartbeat!"
Pieces: Climbing triangle, ramp, arch, net | Weight Capacity: 90 pounds | Recommended Ages: 6 months to 7 years | Weighs: 54.4 pounds | Folds: Yes (triangle)
Also Nice: A Rocker Arch
This wooden rocker would also make a great addition to your child's play area. It can be enjoyed as a rocking chair — it even boasts armrests and a seat for comfort — or flipped over and used as a climbing structure thanks to its thick wooden rungs. All of the edges are smooth and rounded for safety, and the rainbow colors will deliver a sense of whimsy. This pick is intended for kids ages 1 and up.