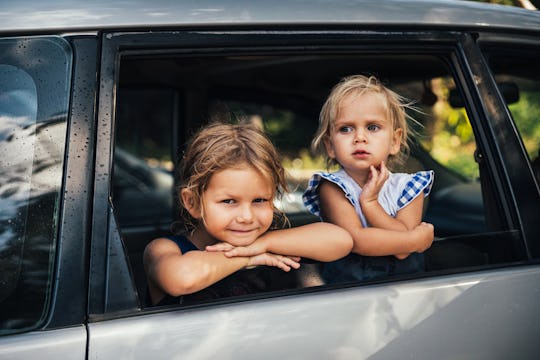 Olga Pankova/Moment/Getty Images
Keep Your Toddler Busy In The Car With These 16 Screen-Free Activities
Because tablets die eventually.
You probably know by now that the easiest way to keep kids occupied on a long car (or plane or train) ride is to put headphones on their ears and hand over the tablet. That's not always possible though; sometimes tablets lose their charge, and sometimes, shockingly, kids lose interest in shows or apps. That's when these 17 car activities and games for toddlers come in handy.
Whether you like games that get the whole family involved like I Spy or the alphabet game, or you're looking to get a little peace and quiet by handing over a car-friendly toy, these car games will do the trick. Most of the physical games here feature magnetic pieces, because no parent wants to turn around every other minute to fish small objects off the floor.
And even though it seems like you're just killing time, your child may actually be practicing some important skills through play including reasoning, categorizing, logic, and fine motor skills.
When snacks fail and your toddler tells you they're tired of their show (why does this never happen at home?), these car games and activities just may save you, because the answer to are we there yet? is a resounding no.
We only include products that have been independently selected by Romper's editorial team. However, we may receive a portion of sales if you purchase a product through a link in this article.